Last Updated on July 2, 2020 by Jeremy
Disclaimer: This Week in Blogging uses demographic data, email opt-ins, and affiliate links to operate this site. Please review our Terms and Conditions and Privacy Policy.
One of the things I find a bit frustrating about Google Analytics is that the data they display is all over the place. For the most part every piece of data you'd ever want to have can be found somewhere in the dashboard, but remembering where it is at can be the hardest part.
Thankfully, one of the features Google Analytics offers is Custom Dashboards where you can curate your own reports to have an easier time tracking your data.
Today, we're sharing three of my favorites that I use to monitor the performance of my own blogs.
Note: All Custom Dashboards on Google Analytics can be shared via a generated link. 

We will not have any access to your data if you install these

.
Installing the Custom Dashboards
Installing the Custom Dashboard is simple. All you have to do is click the link for each of the dashboards below and follow the prompt on your screen: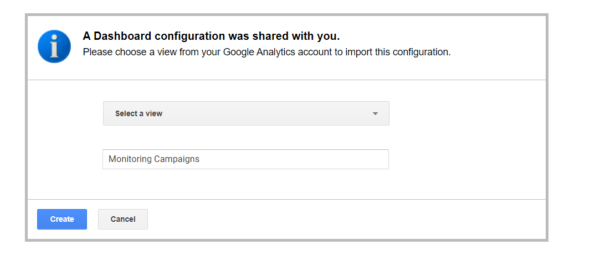 Use the "Select a View" dropdown and navigate to the Google Analytics profile you'd like to install the dashboard on. Generally there may be a few subheaders under each domain you monitor, so you'll want to click on the lowest level in the dropdown nest. If the dashboard installs correctly, Google Analytics should show a success message and automatically reload with your new screen which can now be found under the Customization -> Dashboards tab on the sidebar.
The rest of this guide will have an outline of what you can find in each of the three dashboards.
Global Overview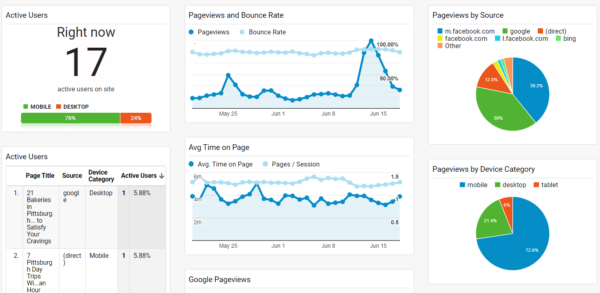 The Global Overview dashboard is the one I find myself looking at multiple times per day (in fact, it is almost always open in my browser as tab #1). This one is designed to give you a snapshot of how you are doing over time and is best looked at over a 30-day window.
The lefthand column has a live display of active users on your site, what articles they're looking at, where they came from, and the device they're on. Below are charts showing your daily average load times and server response times as well as count of 404 errors. If you see a spike in either of these or a general upward trend, it may be a sign you need to investigate more.
The middle column exclusively charts your traffic on a day-to-day basis with displays for total traffic, bounce rate, average time on page, Google page views, Pinterest page views, and Facebook page views. For the latter graphs, they also track pages per session to see if you have a spike from any individual source. If you would prefer to track another source, you can edit the box for any of these and change the name of the source data tab to reflect the source name as it appears in Google Analytics (start with the source name displayed in the real-time data when it pops up).
Finally, the right column offers pie charts showing your traffic breakdown by source and by device for a quick glimpse of this data at a high level.
Overall, I use this chart mostly to monitor my day-to-day performance. If there is a spike in real-time traffic, I can see what article it is. If it is from a specific source, I can also see that as well. If my site speed or 404 errors are spiking, that data is readily available. Naturally, this is why I have the tab permanently open.
Blog Statistics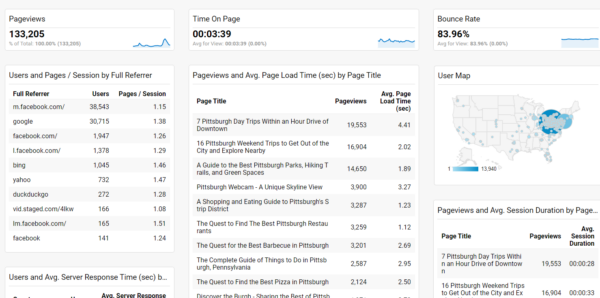 The Blog Statistics dashboard is all about data. Here you can get a quick look at a number of useful pieces of information to really get into the weeds and learn about your site.
The top row shows a quick snapshot of your total pageviews, average time on page, and bounce rate for any given time period.
Below that are a number of tables offering insights into your site including referrals and pages per session, load times for your top viewed pages, and session duration for your top viewed pages.
The final row offers a glimpse into what country your users come from as well as average load times, server response times, and a more detailed browser breakdown as well. You'll likely look at this one the least, but it does curate a fair bit of info for those who want to dive into things a bit more.
Monitoring Campaigns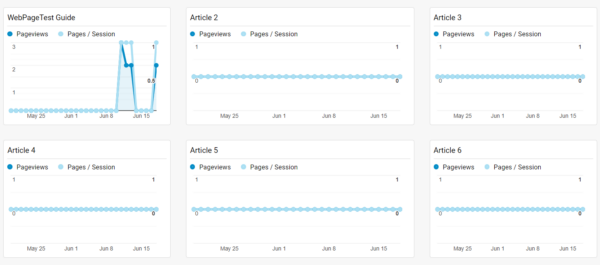 The Monitoring Campaigns dashboard is a blank slate. No, really! This dashboard contains 12 charts setup to monitor performance of specific articles over time with daily traffic and pages per session. So, say you are running a few campaigns or want to pay particularly close attention to a few articles and how they do over a set duration, this tab is for you.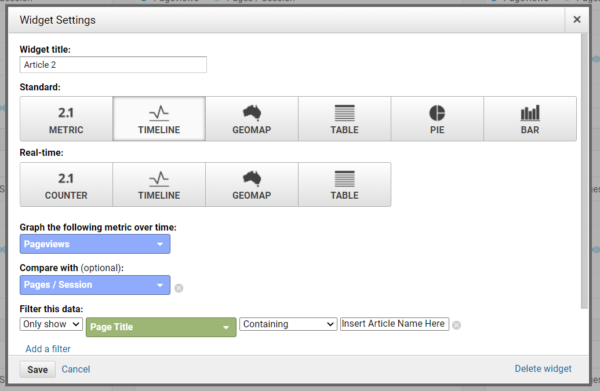 To edit, all you have to do is move your cursor over a graph, click the edit button (shaped as a pencil), and under the "Filter this data:" row change the final box to include the Page Title for the article. It is worth noting that the filter here is setup using the "Containing" function, so if you use one or two words that appear in multiple article titles, the total traffic will be returned (great if you're wanting to check several articles in a series, say if you have multiple articles containing the word "December" in the title). As such, if you only want to monitor one specific article its best to paste the entire article name here.
Want to monitor a referrer instead? Change the "Page Title" drop down to "Source" and change the text box to include the source name like "Google" or "Yahoo" (a few of these are already included on the Global Overview dashboard).
Likewise, this dashboard is set up to show day-to-day charts but you can easily switch over to a running page view total by switching to the "Metric" standard instead of the "Timeline" standard.
Apart from using this dashboard to monitor the performance of paid campaigns, I also like to include a few of my top-performing posts in here as well. Looking at this dashboard lets me get a quick idea of how these articles are performing over a period of time and any long-term changes (specifically tied to a reduction in traffic) are indicators I may want to look into those a bit more.
Overall, these three dashboards have really allowed us to get a quick snapshot at our blog's traffic and we hope you find value in using them on your own sites!
Have a question about how to use any of these dashboards? Comment below to share!
Join This Week in Blogging Today
Join This Week in Blogging to receive our newsletter with blogging news, expert tips and advice, product reviews, giveaways, and more. New editions each Tuesday!
Can't wait til Tuesday? Check out our Latest Edition here!
Upgrade Your Blog to Improve Performance
Check out more of our favorite blogging products and services we use to run our sites at the previous link!
Looking to Monetize Your Site?
Check out programmatic ad networks like the following:
AdSense: Entry-level ad network that accepts low trafficked sites- we have had ad rates from $1-$3 RPM on average.
Monumetric: Mid-tier ad network (> 10k monthly page views required) with slightly better rates- we've had $6-$12 RPM on average.
Mediavine: High-end ad network (> 50k monthly sessions required) with some of the best rates out there- we've had rates from $25-$50 RPM on average.
For a full breakdown of ad network entry requirements, click here!
How to Build a Better Blog
Looking for advice on how to improve your blog? We've got a number of articles around site optimization, SEO, and more that you may find valuable. Check out some of the following!