Last Updated on May 10, 2021 by Chris
Disclaimer: This Week in Blogging uses demographic data, email opt-ins, and affiliate links to operate this site. Please review our Terms and Conditions and Privacy Policy.
When I first started my blogging adventure back in early 2010, I couldn't have even told you what the SEO acronym even stood for. And, quite frankly, at that time it didn't matter. Most of what I wrote about in the early days of travelingmitch took off because there wasn't a whole heck of a lot of competition. It was kind of look shooting fish in a barrel – you just couldn't miss, even if you wanted to.
But, any blogger or content creator who has been awake for the past half-decade will kindly inform you that times have changed. If you're blogging for leisure, then you really only need to worry about enjoying creating the content, and hoping others share in that enjoyment. However, if you're trying to turn passion to profession, or establish blogging as a side hustle, then you won't be able to do that without understanding Search Engine Optimization (SEO).
And that's where our friends over at Make Traffic Happen saw an opportunity. Once they saw that opportunity, they started to create a line of products to help bloggers. Today, we're reviewing what is probably their most popular e-book, "SEO The Easy Way".

Who is "SEO The Easy Way" For?
It's safe to say that it's an e-book that any blogger or content creator can benefit from in some way, but I picture it specifically for bloggers who have put in some work, can't get results, and they can't figure out why. That blogger is surely aware of SEO, but they have no idea where to start, and this would be a good place to start. 
I would also say it's for people who are tired of feeling alienated by SEO experts who seem to be speaking a different language than them. To me, the greatest strength of "SEO The Easy Way" is that it broaches often complicated topics in very simple, understandable language.
It's very much an e-book that takes your hand, and walks you slowly but surely walks you down the SEO path.
If you're an SEO professional or specialist, it probably isn't for you – but I don't get the sense that this e-book was meant to serve that function in the first place. It's mostly aimed at content creators who are ready to take their SEO game to the next level.
I personally bought this e-book a few years back, and can say that it was money well spent.
What Aspects of SEO Are Taught?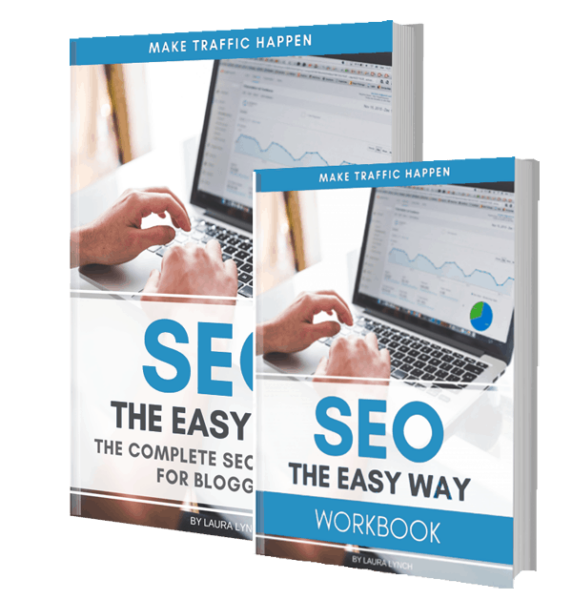 It's a pretty wide net that is cast here. In many ways, the e-book aims to be an answer to the frequently asked questions of SEO.
How to do effective keyword research using tools like Keysearch.
Looking carefully at what quality on-page SEO looks like, and what aspects you need to include in each and every post you're looking to rank.
Ensuring your website design showcases your expertise, as well being user-friendly for readers.
How to deal with common technical issues on your own.
Off-page SEO tactics such as looking at how to make your site mobile friendly, strategies for improving site speed, and what you need to know about backlinking.
What Exactly is Included?
So, if you decide that you do want to buy "SEO The Easy Way," it's worth knowing what is included in that purchase, or at least what that looks like in practical terms. So, you'll get the e-book itself, which comes in around 135 pages and covers what's listed in the above section.
The real gem in my eyes though is the 35 page interactive workbook, which is basically your insurance policy that you'll take what you've learned and put it into practice. As someone who is unusually obsessed with tracking progress, it was this element I appreciated most. Also, I'm a former educator, I know how vital it is to have a second element like this so that learning is crystallized. I know that Gemma too was a teacher, so the inclusion of the workbook didn't surprise me, but did delight me.
You can see Make Traffic Happen's full range of products on Gumroad to see if you'd rather purchase the SEO Power Bundle and go all in, or start with "SEO The Easy Way." I don't think you'll make a bad choice either way.
Join This Week in Blogging Today
Join This Week in Blogging to receive our newsletter with blogging news, expert tips and advice, product reviews, giveaways, and more. New editions each Tuesday!
Can't wait til Tuesday? Check out our Latest Edition here!
Upgrade Your Blog to Improve Performance
Check out more of our favorite blogging products and services we use to run our sites at the previous link!
Looking to Monetize Your Site?
Check out programmatic ad networks like the following:
AdSense: Entry-level ad network that accepts low trafficked sites- we have had ad rates from $1-$3 RPM on average.
Monumetric: Mid-tier ad network (> 10k monthly page views required) with slightly better rates- we've had $6-$12 RPM on average.
Mediavine: High-end ad network (> 50k monthly sessions required) with some of the best rates out there- we've had rates from $25-$50 RPM on average.
For a full breakdown of ad network entry requirements, click here!
How to Build a Better Blog
Looking for advice on how to improve your blog? We've got a number of articles around site optimization, SEO, and more that you may find valuable. Check out some of the following!