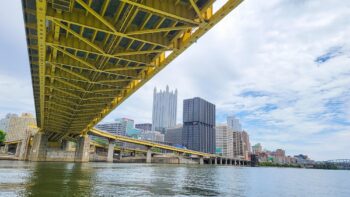 Last Updated on July 22, 2020 by Jeremy
Disclaimer: This Week in Blogging uses demographic data, email opt-ins, and affiliate links to operate this site. Please review our Terms and Conditions and Privacy Policy.
Last Updated on August 9, 2022 by Jeremy
Disclaimer: This Week in Blogging uses demographic data, email opt-ins, and affiliate links to operate this site. Please review our Terms and Conditions and Privacy Policy.
Since founding my Pittsburgh blog in 2015, my overall strategy was a very broad "do everything and write about it".
For the first seven years, we put in a pretty solid effort and visited over 1,100 unique attractions/events/restaurants/etc. in the region. But after a while, it felt like our strategy was having less and less of a return for annual growth.
Part of this was simply because we had visited most of the big ticket attractions in the city, such that most of the places we were visiting were small and obscure spots with limited traffic potential. The other part was that I simply stopped putting effort into writing cornerstone pieces that are much bigger hitters with regards to keyword volumes and/or viral potential on social media.
So I took a break for a little bit and brainstormed all the ideas I could think of where we could repurpose existing content and create killer, themed articles with higher traffic potential. These, coupled with existing cornerstone/skyscraper articles on our site that we've published in the past, ended up totaling well over 100 ideas, and many were new for us to publish moving forward.
So in this one, I thought I'd share some of the best ones to help inspire some ideas for your own local blog!
Note: For purposes of this discussion, "[destination]" will be used as a generic placeholder for you to replace with your city, region, state, country, or other geographical areas. These are not intended to be exact keyword matches (research the best ones on Keysearch!), but more to inspire ideas outright. Other uses of brackets imply flexibility on specific items and examples will be provided for clairty.