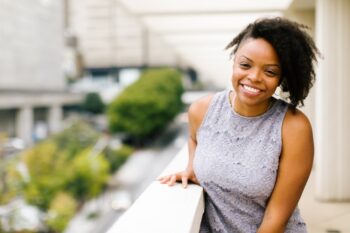 Last Updated on August 17, 2020 by Chris
Disclaimer: This Week in Blogging uses demographic data, email opt-ins, and affiliate links to operate this site. Please review our Terms and Conditions and Privacy Policy.
This week, we're thrilled to to welcome the words of Danielle Desir, a blogger who has created and effectively leveraged her podcast in a way that has downright inspired us. We usually write the intro, but this time she's going to take it from here. We're chatting, fittingly, about podcasting tips for bloggers. So, if you've been playing with the idea of starting a podcast, then this one is for you. 
Hey there, I'm Danielle Desir. I'm an author, affordable travel and personal finance blogger and podcaster. Over on The Thought Card, I empower financially savvy travelers to make more informed financial decisions – travel more, pay off debt, and build wealth. 
I am also the founder of WOC (Women of Color) Podcasters – a blog, community and membership dedicated to amplifying the voices of women of color podcasters and audio creators around the world. With over 3,500 members on Facebook, we offer an inclusive space for women of color to connect, learn, and share podcasting resources.