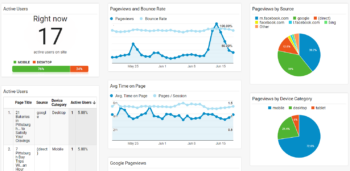 Last Updated on July 2, 2020 by Jeremy
Disclaimer: This Week in Blogging uses demographic data, email opt-ins, and affiliate links to operate this site. Please review our Terms and Conditions and Privacy Policy.
One of the things I find a bit frustrating about Google Analytics is that the data they display is all over the place. For the most part every piece of data you'd ever want to have can be found somewhere in the dashboard, but remembering where it is at can be the hardest part.
Thankfully, one of the features Google Analytics offers is Custom Dashboards where you can curate your own reports to have an easier time tracking your data.
Today, we're sharing three of my favorites that I use to monitor the performance of my own blogs.
Note: All Custom Dashboards on Google Analytics can be shared via a generated link. 

We will not have any access to your data if you install these

.