Published by Jeremy. Last Updated on October 12, 2020.
Disclaimer: This Week in Blogging uses demographic data, email opt-ins, and affiliate links to operate this site. Please review our Terms and Conditions and Privacy Policy.
For many years, I used the Yoast plugin on my sites to help with SEO. The plugin is fairly straight forward, has a number of customization options, and, when it came to the tasks I wanted to accomplish, the plugin works beautifully.
Recently, a new SEO plugin has come out to the scene by the name of Rank Math and has been receiving rave reviews online.
Naturally, I was curious and decided to turn the plugin on for one of my newer blogs to see what it is all about. In this one, I thought it'd be fitting to compare the offerings between Rank Math and Yoast to help you decide if it is worth switching.
Rank Math vs Yoast – SEO Throwdown
For this one, I wanted to offer up a breakdown of what the two plugins offer out of the box, what is included in the free services vs the premium options (currently only Yoast offers a premium upgrade), and a discussion on if any of these differences actually matter when it comes to operating your blog.
While these plugins are quite similar, your individual needs could dictate which one you use on your blog.
Yoast Plugin Features
At its core, the free Yoast plugin is a pretty streamlined SEO tool. It generates a sitemap for you that you can submit to search engines, allows for easy meta title and description editing at the end of every article, and lets you streamline your post title structures in the plugin tools as well.
The plugin offers a color-coded keyword analysis system out of the box (red, yellow, and green) and gives quick feedback on keyword usage in a wealth of topics. While the tips on how to incorporate keywords are valuable, the color-coded system for terms is a bit clunky and many tend to think that the steps to achieve green scores are trending towards over-optimization. As such, I hardly reference this section and tend to use the plugin simply for meta title/description editing.
From there, the premium version of the plugin offers additional features like link redirects, internal link suggestions, external link settings (nofollow, sponsored), secondary keyword analysis, update notifications for cornerstone posts to not allow them to get stale, support, no ads, and a whole lot more.
Is this worth the yearly fee that Yoast charges for the plugin? Well, to be honest, we have never paid for it as there are also several free WordPress plugins that exist to allow for some of these options as well. Likewise, when it comes to link redirects we always like to do these server-side to ensure they are maintained in the event we ever change plugins.
A final note about Yoast is that this plugin was founded in 2010 and has been around the block. While they have some bugs here or there with new versions (as all plugins do), it is a bit of peace of mind to know this one has been around for over a decade. Rank Math, on the other hand, was founded in 2019 and is still relatively new.
Rank Math Features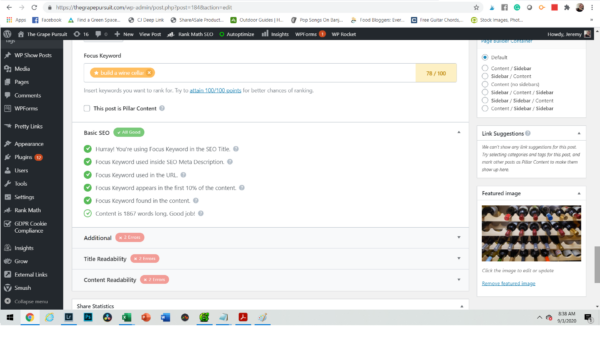 Rank Math is very similar to Yoast in that it generates a sitemap that can be submitted to search engines, allows for easy meta title and description editing, and has more customization settings for your post titles in the settings.
But instead of offering a color-coded keyword analysis tool, Rank Math scores your articles on a 100-point scale. Below the score is a fairly detailed list of recommendations for how to improve your score (much like with Yoast), but are a bit more robust and slightly easier to follow.
From there, Rank Math offers a wealth of additional features for free in the base plugin, including many of those only available in Yoast's premium version (link redirects, external link settings, secondary keyword analysis, etc). The service also connects to Google Search Console and displays your search performance data directly on your WordPress dashboard- a nice perk!
Likewise, Rank Math also has an import feature that takes your Yoast settings and automatically applies them into its settings as well, making for a pretty seamless migration for those who are thinking of switching. I was certainly worried about doing this on my sites, and thought it was a breeze to do (although, admittedly, I have still only tested it on a newer site of mine out of an abundance of caution).
Tip: If you use the import feature to transfer your data from Yoast to Rank Math, be sure to go into Webmaster tools to ensure the correct sitemap is submitted as your Yoast created sitemaps may no longer exist. At the time of publishing, our sitemap had the URL structure of /sitemap_index.xml and this can be easily confirmed in the Sitemap tab within Rank Math.
So, Which is Better? It Depends on Your Goals

When it comes down to it, what you get out of these plugins will be directly proportional to what you put into them. If you simply want to have the functionality to edit your meta title and description to get a leg up on what is displayed in search results, both will work great and are virtually identical to each other (admittedly, I do think Rank Math deals with Google's character count limits better than Yoast, but that is a minor critique).
Honestly, it is a pretty simple functionality and you could stay the course with whatever you use just fine. But if you want to use any plugin features beyond this, I would give the edge to Rank Math for two key reasons:
First, their keyword scoring system is a bit more robust. The plugin seems to offer more factors in its analysis, is a bit easier to follow, and attempts to rank your site on a 100 point scale as opposed to a simple color-coding scale of Yoast. While I think a 100 score is probably over-optimized, as I do with Yoast's green score (one reason why I don't use it), Rank Math's setup is a bit easier to target something in the 80s and get close to what I view as idealized keyword usage. Add in that Rank Math lets you monitor five keywords per post and you can see why it is an alluring plugin.
Second, Rank Math offers a number of customization options for free that are only available in the premium version of Yoast (or missing altogether). If things like link redirects, 404 tracking, or other customizations are important to you beyond the SEO scores, you may find that Rank Math's free inclusion is a great perk. I still do not use most of these myself, but it is important to highlight that out of the box Rank Math has way more functionality built into it than the free version of Yoast.
This is truly an instance of your mileage may vary.
As I come from the background of using an SEO plugin simply to edit my meta title and description, I find both plugins to be effective at what they do. However, when testing out some of my posts for keyword usage I do appreciate how easy Rank Math is to follow for improving my scores (and therefore keyword integrations), and its easy import feature from Yoast was an easy enough sell to get me to start switching my sites over to investigate this aspect a bit more.
Even though I've been blogging for over a decade, it is funny how even I still miss some basic SEO principles when writing new posts, and making one or two changes has allowed me to take some posts with scores in the 30s to the 80s very quickly in Rank Math, whereas in Yoast may have simply gone from red to yellow with a bit less nuance. Perhaps I've been conditioned to the 100 point scale thanks to using Keysearch for years, but it feels rewarding to see that jump all the same and is a bit more inspiring to make me want to go back and check all my other posts.
But at the end of the day, I have to ask- does switching help with SEO in the long run with regards to SERPs, clicks, and the other aspects that actually matter? The answer is that it truly depends.
I conducted a test where I optimized some older articles that had scores in the 30s and took them to scores in the 80s. Few, if any, had appreciable ranking changes that I could attribute specifically to optimizations suggested via Rank Math. This was partly because they were mostly older posts but also because they are no longer competitive for the keywords they were originally targeting. Articles I did rank for, on the other hand, were often newer and had scores in the 70s and 80s to begin with- showing that I already have a handle on SEO to a degree on my own sites (at least for newer content).
This highlighted what is perhaps the biggest takeaway I have between using Yoast and Rank Math, and that is while they are quite comparable tools for what they do, Rank Math makes it easier to get into the habit of applying SEO best practices in your articles. While this may be less useful for those who consider themselves seasoned SEO experts, it is quite helpful to those who are still learning and need a little extra guidance before publishing.
As such, I'd give the nod to Rank Math here.
Have you tested out Yoast and Rank Math? What do you think about the two and which one did you ultimately settle on? Comment below to share!
Join This Week in Blogging Today
Join This Week in Blogging to receive our newsletter with blogging news, expert tips and advice, product reviews, giveaways, and more. New editions each Tuesday!
Can't wait til Tuesday? Check out our Latest Edition here!
Upgrade Your Blog to Improve Performance
Check out more of our favorite blogging products and services we use to run our sites at the previous link!
Looking to Monetize Your Site?
Check out programmatic ad networks like the following:
AdSense: Entry-level ad network that accepts low trafficked sites- we have had ad rates from $1-$3 RPM on average.
Monumetric: Mid-tier ad network (> 10k monthly page views required) with slightly better rates- we've had $6-$12 RPM on average.
Mediavine: High-end ad network (> 50k monthly sessions required) with some of the best rates out there- we've had rates from $25-$50 RPM on average.
For a full breakdown of ad network entry requirements, click here!
How to Build a Better Blog
Looking for advice on how to improve your blog? We've got a number of articles around site optimization, SEO, and more that you may find valuable. Check out some of the following!