Published by Jeremy. Last Updated on November 16, 2021.
Disclaimer: This Week in Blogging uses demographic data, email opt-ins, and affiliate links to operate this site. Please review our Terms and Conditions and Privacy Policy.
"Your advertising account has been disabled for suspicious activity."
These are dreaded words no one wants to see when logging into an advertising account on any network, and as I have had relative success advertising on Facebook, this was especially gutting for me to see in my account after waking up one morning.
While this could be yet another sign that playing in someone else's sandbox is a bad idea, I was determined to get my account reinstated because, well, advertising on Facebook simply works for my blogs.
So in this one, I wanted to share what happened and the surprisingly simple steps I used to get my Facebook advertising account reinstated.
Note: For full clarity, I should say that my pages worked fine for conventional posts and organic traffic, but rather only my ability to pay for advertising was disabled.
Why Was My Facebook Advertising Account Disabled?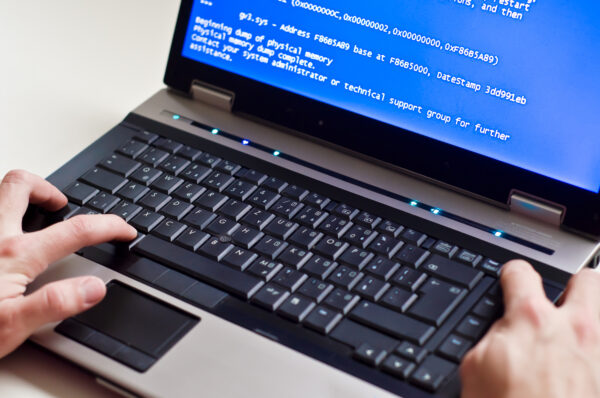 Before diving into it, everything you're about to read is purely speculation on my part. To be quite honest, the conventional rules that Facebook sends in situations like these are zero help, and I had very little to go on to diagnose this issue. Other than a few generic sentences, they provided me virtually no information at all.
All I do know is that I received an email from Facebook telling me that my account was disabled for "circumventing policy rules" which is, of course, the least descriptive of all the violation categories (and of course, without a single example illustrating what I did wrong). As I would like to believe that my advertising practices are whitehat, I did not have any overt reasons jumping out to me as to what this meant or what I did.
It wasn't until I was digging around on other parts of my business center on Facebook that I saw the suspicious activity notice mentioned above, so now I had two conflicting statements and at least a couple of ideas what could have happened if suspicious activity was indeed true- some a bit more in the realm of possibility than others:
I had recently spent two weeks in Portugal and had boosted posts while I was away from the USA. This error popped up about two weeks after I had returned, however.
I had significantly increased my advertising spending in the days leading up to the pause. This was to the tune of about 3-4x my average daily spend.
I had a few boosts on my wine blog get denied for incorrect boosting parameters, which I had promptly fixed and they were re-approved.
If it was idea #1, there is little I could have done other than simply not work while abroad (which is a nonstarter for me). If it was #3, I put the blame on Facebook there because as far as I was aware I had been boosting within their target parameters and adjusted accordingly when told I was not. It seems like it'd be silly to ban advertisers for posting according to your own rules, so I'd be somewhat surprised if it was this one.
So this leaves me with #2, which was the one that concerned me the most and was what I thought was the most likely culprit. When my account was paused on (November 14th) I was billed for my outstanding balance month-to-date. It was more or less the exact same amount I was billed for the month prior.
For those who don't want to do the math, this would've put me on track to 2x my normal monthly spending, and the days leading up to the account issue I also boosted ~15 posts across several of my sites (about a 3x increase from normal). I could, in a way, see this being a case to flag my account for suspicious activity, but it also seems counterintuitive to completely disable an account that wants to spend money rather than simply send a push notification to verify the transactions.
And to be fully transparent here, we're talking an increase from $250/month to about $750/month. Nothing terribly crazy when you consider how much money is flowing into Facebook on a daily basis.
So from there, I really had no good answer as to what happened. Did I violate a policy I didn't know even existed (not to mention received no warning about to give me a chance to fix my mistakes)? Maybe. Was my account flagged because I wanted to, gasp, give Facebook more money? Possibly aligning with when I was out of the country? Maybe. Did some overzealous moderator get upset that I post alcohol content when it is clearly allowed per policy? Again, maybe.
The truth is I simply don't know and even after all of this was resolved I still do not know. These were just the only things I could think of that may have made my account look "suspicious" (and I still have zero ideas for "circumventing policy"). So with all this in mind, I requested a review.
Step One – Request a Review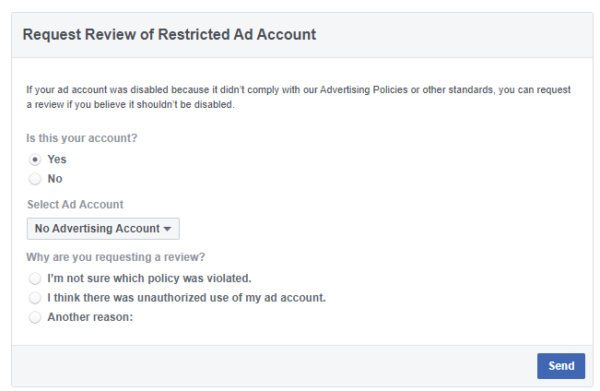 When Facebook advertising accounts are deactivated for suspicious activity, they lead you to a form to request a review.
This form is pretty simple in that all you have to do is select your ad account and a reason for why you're requesting a review- which for me only gave the options of "I'm not sure what policy was violated", "there was unauthorized use of my account", or "other" with a text box to explain the issue.
Translating these, I read them as "I have no clue what is going on" (me), "I can tell someone else used my account fraudulently", or "I know something else is going on and this is what happened". I, of course, was in the first category because I truly have no idea what was going on and would be speculating at best like I did above.
When I went to use this form, Facebook wanted to verify my identity with a government ID before allowing me to proceed- giving me hope that they only just flagged my account from either being out of the country or significantly ramping up my spending from my average. So I uploaded my passport and waited.
While waiting for my ID to be verified, I saw another button suggesting to take Facebook's mini-course on advertising guidelines, and since it was only listed as 15 minutes to complete, I did just that. I didn't learn anything new from this, but at least it was visible on my account as being completed.
It took about 36 hours for my ID to be verified, likely because I submitted over a weekend (come Monday during California business hours it was approved fairly quickly). Once that was approved, I submitted the form using the "I'm not sure what policy was violated" option, and was given an opportunity to share information via a chatbox. I outlined the conditions that I mentioned above, including offering to no longer advertise my wine page if that was indeed the problem and mentioning I completed the advertising guidelines course, and waited again.
For what it is worth, my account got reactivated within 30 minutes and it all felt incredibly simple. Although I have to admit I still have no idea why my account was deactivated in the first place- the message was simply that my account was reactivated and instructions on how to turn campaigns back on if they did not resume automatically. So if I violated any rules, well, they're still not telling me, and this feels quite unfortunate overall.
Now, if you are not as lucky as me and do not get your account reinstated, you may have to move on to step two- talk to an employee via chat.
Step Two – Talk to an Employee via Chat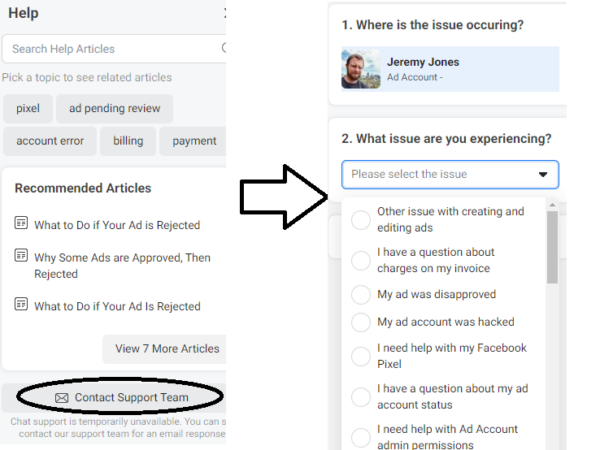 Contrary to popular belief, you can actually speak with a human at Facebook- but only via the ad center and only at a very specific contact page that is hard to find.
When in your Ads Manager account, click the Help button in the bottom left corner (we know Facebook changes layouts often, but when I was going through all this it looked like a circle with a question mark in it). After clicking, a sidebar pops out on the right side of the screen with a search box, common search questions, and another notice about my account being disabled too (these are shown in the image above).
If you scroll down, you will likely see a button with "Contact Support Team" and a chat bubble. Click this one.
Here my account restriction notice popped up yet again, and a drop-down menu asked me to select the ad issue I am having. Account disabled issues populated this by default, but I'm not sure if this was because of my account status or just that this is what everyone messages about. Putting my speculation hat on, I'm going to go with the latter here.
When you select an option, it'll likely give you more information to check out, but a Contact Support button was also visible for taking things further with a real-life human.
When you click this, you can then either select chat or email support and are told an average wait time to speak with a representative via chat, which for me was 3 minutes every time I looked (email support was, for some unexplained reason, also not available to me). You can then add your email, phone number, message, and even screenshots to help share details on the issue even further if you have them.
If you go this route, I would think it would be helpful for you to have isolated a few issues that could've caused your problem (my three points listed above), possibly be ready for steps you can take to fix said issues (like how I offered to no longer advertise my wine page if it was causing trouble, even though it followed official guidelines just fine), and more. Then you just have to hold your breath to see what happens.
So what happens if you get denied? A lot of sources simply say try again.
Step Three – Repeat Step Two
While I did not pursue this route, we've read many stories of people simply pressing the issue on multiple representatives and being able to find someone friendly to reverse an otherwise poor decision from another employee. So much of Facebook's system is automated (hardly ever in favor of their customers at all) that it may only take one friendly representative to undo all the headaches in seconds.
If you get a less-than-amenable person in Step Two, you may want to consider trying again unless they gave you very legitimate reasons for why your account was closed. In which case, well, that is on you.
So here, Step Three may simple be repeat Step Two and see what happens.
Step Four – Become the Monster They Think You Are (Or Give Up)
For the final step, we're moving into the irony territory. If your account is closed with no hope in sight, the only real way you have to restore access is to set up a new brand manager for advertising and start over with your pages.
This is, to be 100% clear, most certainly circumventing Facebook's ad policy– the very policy my account was flagged for violating and what started this issue to begin with. So if you go this route, there is some irony involved in that you will engage in what Facebook accused you of doing at the start. I will reiterate that I did not do this, but rather if you go this route this is exactly what you're engaging in.
I shouldn't have to tell you that this is risky for many very obvious reasons, and of course, I don't necessarily recommend it either. This comes up time and time again in other articles regarding restoring advertising accounts (seriously, nearly every article I read suggested this), and really when you've tried everything else it may be your only option other than giving up.
These tutorials often recommend setting up a new brand manager using a 3rd party's Facebook account (say, a spouse), on a new IP address, and with a new credit card to name a few. This is very much taking deliberate steps to open up a completely new ad account for your pages without automatically getting flagged out of the gate.
Could this work? Maybe. Could it buy you more time to advertise? Maybe. Will you get flagged again later on? Most likely– it is not a matter of if, but when.
I find this a bit too risky for my liking because at the end of the day it is only your ad account that got disabled- not your entire account. Sometimes it is better to lick your wounds and move on than risk violating even more policy simply because you want to give Facebook more advertising money. To put it bluntly, we simply cannot guarantee if punishments would escalate as well if you deliberately try and circumvent the network's policies.
Have we read about this actually happening? No. But we just view it as a risk if you try and push things too far. I am only mentioning it here purely to give this warning because almost every other resource out there does not.
So all we have left to say now is good luck, and let us know how it goes in restoring your account!
Have you had your advertising account disabled (and later restored)? What happened and how did you fix it? Comment below to share!
Join This Week in Blogging Today
Join This Week in Blogging to receive our newsletter with blogging news, expert tips and advice, product reviews, giveaways, and more. New editions each Tuesday!
Can't wait til Tuesday? Check out our Latest Edition here!
Upgrade Your Blog to Improve Performance
Check out more of our favorite blogging products and services we use to run our sites at the previous link!
Looking to Monetize Your Site?
Check out programmatic ad networks like the following:
AdSense: Entry-level ad network that accepts low trafficked sites- we have had ad rates from $1-$3 RPM on average.
Monumetric: Mid-tier ad network (> 10k monthly page views required) with slightly better rates- we've had $6-$12 RPM on average.
Mediavine: High-end ad network (> 50k monthly sessions required) with some of the best rates out there- we've had rates from $25-$50 RPM on average.
For a full breakdown of ad network entry requirements, click here!
How to Build a Better Blog
Looking for advice on how to improve your blog? We've got a number of articles around site optimization, SEO, and more that you may find valuable. Check out some of the following!