Published by Jeremy. Last Updated on February 20, 2023.
Disclaimer: This Week in Blogging uses demographic data, email opt-ins, and affiliate links to operate this site. Please review our Terms and Conditions and Privacy Policy.
One of the things we lament about with Pinterest is the lack of an in-app scheduling feature like you have on Facebook. This means that to be more efficient in your effort to market on this social channel, you have to look towards third parties to fill the void.
One of those third parties is Tailwind, and is a tool I've been using for years in order to get an edge with my Pinterest marketing. In this review, I want to break down some of my favorite features of the service.
How Tailwind Works –  Our Preferred Pinterest Pin Scheduler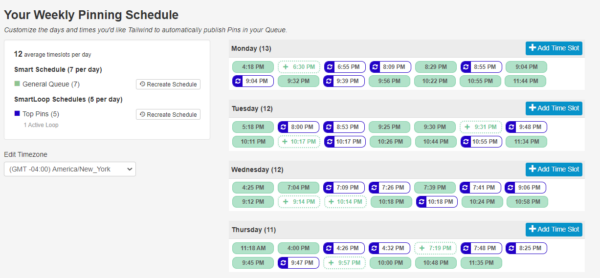 At its core, Tailwind is a 3rd party program to allow you to schedule Pinterest pins in advance.
You start by setting up your ideal times for pins to go out every day of the week (or take Tailwind's recommended times based on your account performance). After that, all you have to do is install Tailwind's browser extension and pin like normal- using their button that appears when you hover over an image instead of Pinterest's.
Instead of publishing immediately, Tailwind schedules them into your selected timeslots starting with the next available time. When that day and time comes up, the pin will publish automatically, and this process will continue for all pins you have scheduled. Easy, right?

By itself, this is a great tool simply to expand your pinning times beyond the narrow window when you are on the social network.
Prior to using Tailwind, I'd go on Pinterest a couple of times a week, pin a bunch of images (say, 50), and be done with it for a few days. For followers who were on Pinterest scrolling through the feed, it was entirely likely they would see a mass of images from me and, depending on their tolerance for mass content from a single user, could be offputting (see: spam).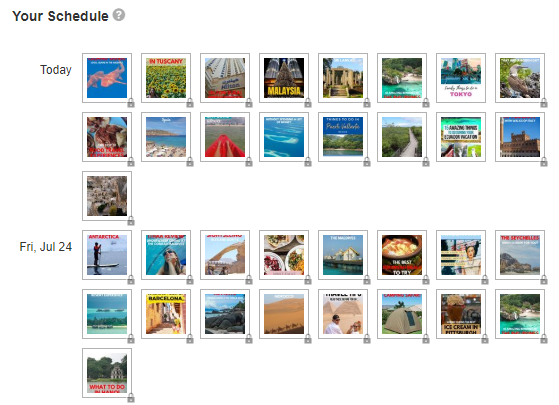 By using a scheduling service like Tailwind, I can schedule my pins to go out at the exact time slots I want in the same amount of time it takes to pin manually. So instead of sending out 50 pins immediately, I could schedule seven pins a day to go out at various time slots over the course of a week. As soon as the first day becomes full, Tailwind starts populating the next day's pins and so on as long as I keep pinning.
This service has far more going on in the app beyond scheduling, and there are a few features that we absolutely love and have to share a bit more of here.
Tailwind is More Than Just a Pin Scheduler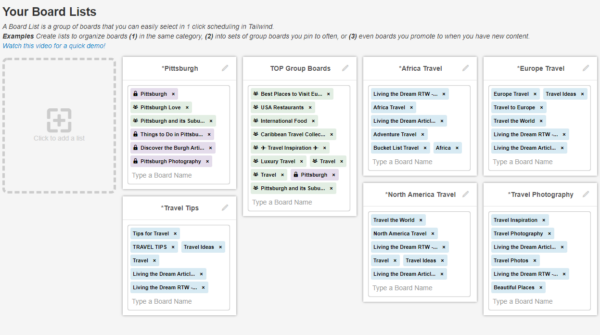 One of my favorite parts about Tailwind is tying their Board Lists and Interval Pinning features together. This makes the service far more valuable than its scheduling tool discussed above.
The Board Lists concept is pretty simple. Within Tailwind you can create one thematic board and then cluster multiple Pinterest boards under one umbrella topic. For example, on our Pittsburgh blog, I can create a board list with the theme of "Pittsburgh Restaurants" and group together our individual boards of Pittsburgh restaurants, Pittsburgh articles, Things to Do in Pittsburgh, and more. Or, on our travel blog, I can create a board called "Asia Travel" and have five themed individual boards all clustered within that as well.
These boards then act like their own individual Pinterest boards, but every time you pin to these, your pin will get sent out to all the sub-boards within it. So if we save a pin to our "Pittsburgh Restaurants" board list, every sub-board within that will get a pin. If there are five boards, you get five pins for the time it takes to pin one!
On its own, this goes back to the bulk pinning problem discussed above. Having five of the same pins go out together, even if spaced out hours apart via the daily scheduling feature, can be a bit obvious (and overbearing) to some followers- especially anyone who looks at your account directly. This is where the Interval Pinning feature comes in to play.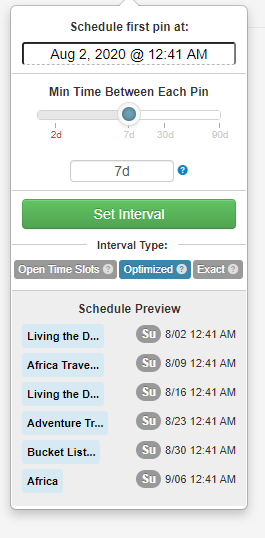 Interval Pinning is a Tailwind feature where you can space out your pins across multiple boards in minimum intervals, starting with as little as 12 hours to as high as 90 days. So, instead of pinning the same pin five times to a Board List in the next available time slots, Interval Pinning will space them out over a minimum period of time that you select. (We currently use one week spacing between identical pins as recommended by my Pinterest VA, Virtual Powerhouse, to avoid spam filters).
So, say you have a board list with 10 Pinterest boards on them, and you enable interval pinning with a span of 7 days per image. With just a couple of clicks, you can have one pin scheduled to 10 boards over a period of ten weeks. Repeat this with more pins in various board lists, and you can schedule months of Pinterest pins in just a few hours!
For those who use group boards, you may wish to be careful using those on the Interval Pinning feature with Board Lists as some have maximum daily pin limits (often just one per day). Without proper planning, you may accidentally pin more than once on any given day and could be at risk for being removed.
Fresh Content is a Key to Success on Pinterest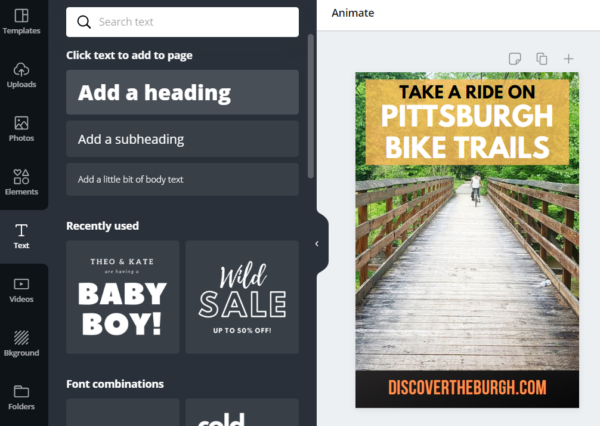 While Tailwind is a great tool for scheduling on Pinterest, you also need to provide a balance between new pins, old pins, and other people's pins to keep your content fresh. With each passing update, Pinterest is getting more and more concerned with spam, and those who pin the same content over and over again may not get as much out of the network over those who create new pins for articles and promote more than just themselves on a regular basis.
This is one of the reasons why our Pinterest VA suggests spacing out identical pins for at least a week in the Interval Pinning feature. Anything else may start to appear questionable to the algorithm. They also go on to recommend producing at least 5 to 10 new pins on the social network each week- a daunting task even for us.
Currently, my favorite way to make pins is via Canva. The reason for this is because the service holds onto past designs and allows you to easy copy-and-paste templates over to create new pins. From there, all you have to do is upload a new image, modify the titles, download, and off you go! Throw in the fact that there are a number of graphics and fonts available without paying (and even more for those who want more creativity), you can make many pins in a pinch.
Why We Feel Tailwind is Worth It
Overall, Tailwind is a pretty straight forward Pinterest scheduling tool that has some pretty killer extra features built-in like Interval Pinning and Board Lists. But this service has other features that you may find interesting as well including Smart Loop, where you can set a pin to go out recurring over time, and access to Tribes (which will be renamed here soon) for further pin amplification with other pinners within your niche.
Couple these with the above and you can see why Tailwind is a great value for those wanting to get ahead on their Pinterest marketing!
How do you use Tailwind to grow your presence on Pinterest? Comment below to share!
Disclosures: Tailwind neither sponsored nor requested the above review. We're just fans. Need Pinterest VA services? We highly recommend our friends at Virtual Powerhouse as well. 
Join This Week in Blogging Today
Join This Week in Blogging to receive our newsletter with blogging news, expert tips and advice, product reviews, giveaways, and more. New editions each Tuesday!
Can't wait til Tuesday? Check out our Latest Edition here!
Upgrade Your Blog to Improve Performance
Check out more of our favorite blogging products and services we use to run our sites at the previous link!
Looking to Monetize Your Site?
Check out programmatic ad networks like the following:
AdSense: Entry-level ad network that accepts low trafficked sites- we have had ad rates from $1-$3 RPM on average.
Monumetric: Mid-tier ad network (> 10k monthly page views required) with slightly better rates- we've had $6-$12 RPM on average.
Mediavine: High-end ad network (> 50k monthly sessions required) with some of the best rates out there- we've had rates from $25-$50 RPM on average.
For a full breakdown of ad network entry requirements, click here!
How to Build a Better Blog
Looking for advice on how to improve your blog? We've got a number of articles around site optimization, SEO, and more that you may find valuable. Check out some of the following!