Published by Chris. Last Updated on March 13, 2023.
Disclaimer: This Week in Blogging uses demographic data, email opt-ins, and affiliate links to operate this site. Please review our Terms and Conditions and Privacy Policy.
Buy Me a Coffee hails itself as "the best way for creators and artists to accept support and membership from their fans." Today, we're going to talk about whether that's truly the case.
When we're talking about memberships, Patreon is the first name that comes to mind, but Patreon really hasn't figured out the "casual supporter" dilemma – ie. the reader or subscriber that might love what you're doing, but doesn't want to be locked in to a monthly subscription.
Buy Me a Coffee has made strides recently to become more membership focused, but at it's core what makes it worth it for creators is that it's a very easy method to give your audience a way to say thanks. As they note, "In just a couple of taps, your fans can make the payment (buy you a coffee) and leave a message. They don't even have to create an account!"
Jeremy and I put a lot of time into This Week in Blogging and so we set up our own Buy Me a Coffee account (though you'll notice that we went for the "Buy Me a Beer" option based on what we like sipping on!). Thus far, it's been a fantastic way for us to not only bring in extra revenue to support the project, but also to hear from subscribers directly about the value they're receiving.
Besides the income, which is both humbling and appreciated, the emotional boost that you get when a new supporter takes the time to throw a few bucks your way is immense, and that's part of the reason we're big fans.
How Did Buy Me a Coffee Come to Be?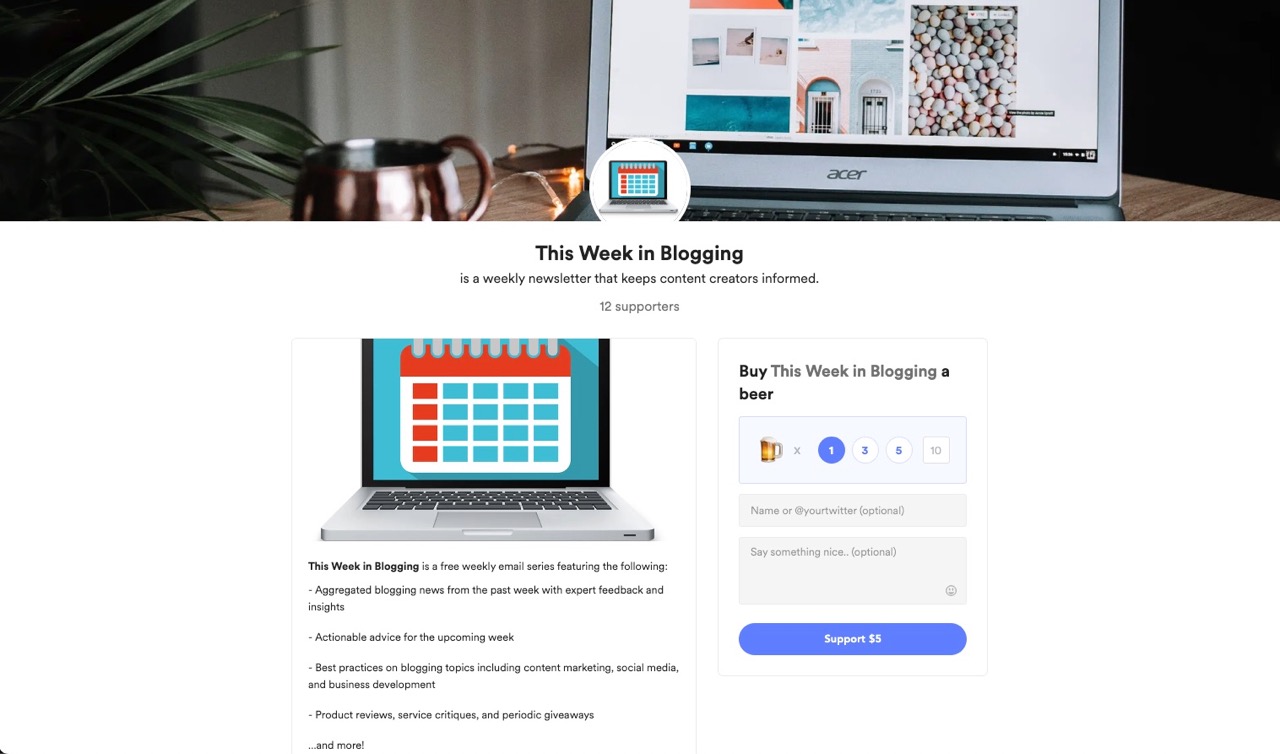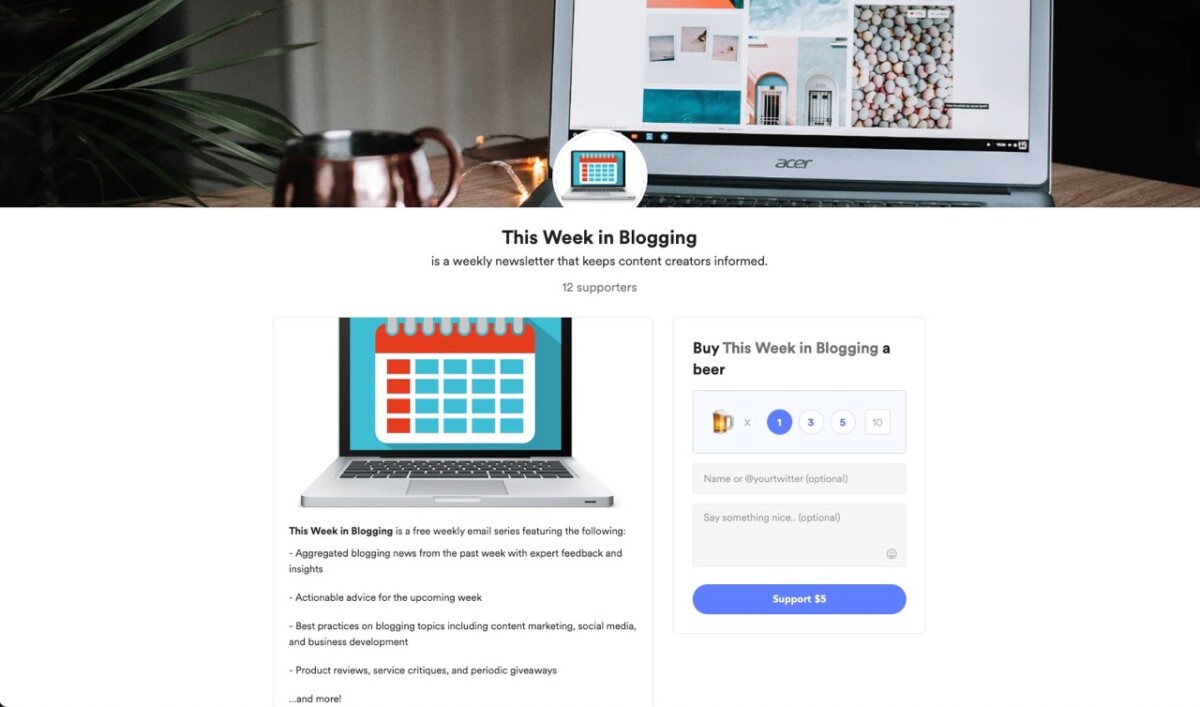 Buy Me a Coffee can trace it roots back to 2017 when founders Jijo Sunny and Joseph Sunny were creators who lived on a fairly measly income from their respective creative gigs while based in San Francisco. They began to get frustrated with a world of changing algorithm, and the turbulence that creators can face in establishing reliable income streams.
They wanted to create a platform where creators could build a direct relationship with the audience. "Creators needed a product that was meaningful and enjoyable to use. This meant designing a payment platform that doesn't feel transactional—starting with the name itself," they noted.
One last thing to mention – the central idea behind Buy Me a Coffee is that they feel that almost everyone will work for themselves in the future, and so their mission is to empower individuals to achieve that.
How Does Buy Me a Coffee Work?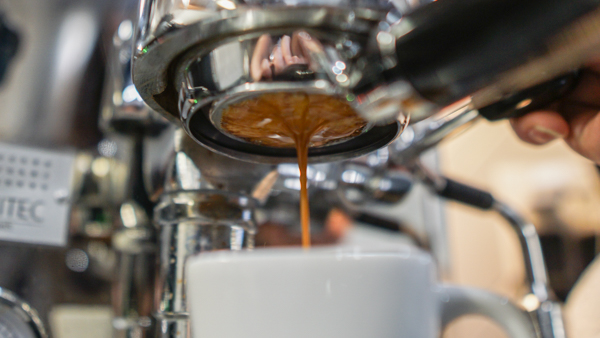 It's really quite easy. Starting a page takes about a minute, and it's totally free. Most people will support you by buying you a coffee here or there, but they did recently launch monthly memberships for your biggest fans. This part is essentially just like Patreon where you're offering supporters exclusive content or other perks in exchange for ongoing support.
Now, they also have "Extras." They describe Extras as "the things you'd like to sell probably do not belong in a Shopify store. Extras is designed from the ground up with creators in mind." They mention examples of Extras being things like a 1-1 Zoom call, an art commission, or an e-book.
Part of why BMC has become so popular is that it's designed with the creator in mind. It's user friendly, you're paid out instantly to your bank account, you have 100% ownership of your supporters (no scammy emails from Buy Me a Coffee's side to supporters etc.), and they have a solid support team if you have any questions along the way.
If that sounds appealing, you can set up your own page here.
Frequently Asked Questions About Buy Me a Coffee
Firstly, who is Buy Me a Coffee for? Well, the short answer is anyone with an audience. "Youtubers, musicians, podcasters, writers, programmers, nonprofits, cosplayers, you name it. More than 800,000 creators and millions of their fans are on Buy Me a Coffee."
They use Stripe to set up payments to your local bank account, and if you're not in a Stripe supported country, then they offer Standard Payout (paid out every Wednesday via Payoneer or Wise). Your audience can pay with credit cards, debit cards, Apple Pay, or Google Pay. 
There is no monthly fee (unlike Patreon). They do charge a 5% transaction fee, but you keep 95%. They're big on the idea that they only make money when you do, which we appreciate.
We use Buy Me a Coffee as an additional way for our supporters to say thanks, but many creators use this software as their primary income source, and even make six-figures. You can have it set to "buy me a…" coffee, burger, book, beer, or pizza.
If you've got any questions, they're always reachable at [email protected], and they also have a feature request page where they've very responsive.
If you want to see what kind of creators are using the service, you can "explore creators" here. There are video creators, artists, writers, musicians, developers, people in gaming, podcasters, communities, and more.
Do We Recommend Buy Me a Coffee/Buy Me a Beer?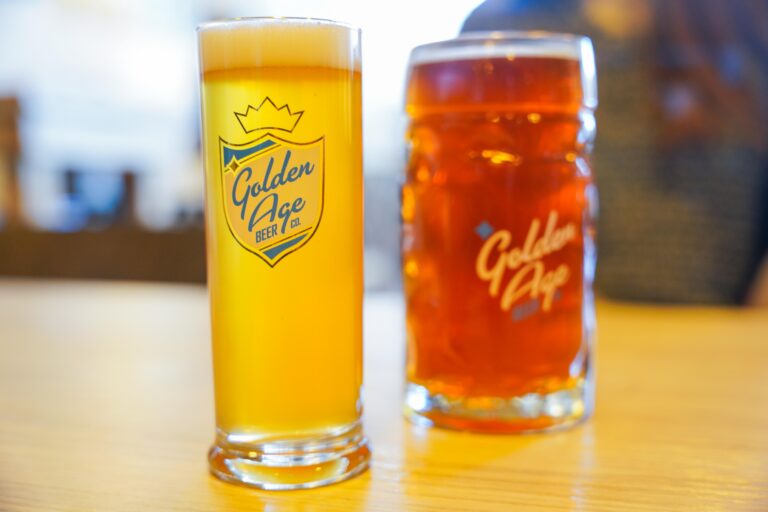 In short, yes.
We've made a decent amount beer money (in the hundreds, not thousands just yet, mind you) that we feel we wouldn't have made if not for Buy Me a Coffee. At this time, we're probably making around $50 per month (and, of course, you can always feel free to add to that if you're feeling thankful for what we do!)
If you're a creator, there's no reason not to start a page and play around with how this might work for you. It may not be a game-changer for you, but at the same time, it certainly can't hurt. So why not?
If you've got any further questions, feel free to leave a comment below- we hope this was helpful for you if you're considering using Buy Me a Coffee on your creator journey.
Join This Week in Blogging Today
Join This Week in Blogging to receive our newsletter with blogging news, expert tips and advice, product reviews, giveaways, and more. New editions each Tuesday!
Can't wait til Tuesday? Check out our Latest Edition here!
Upgrade Your Blog to Improve Performance
Check out more of our favorite blogging products and services we use to run our sites at the previous link!
Looking to Monetize Your Site?
Check out programmatic ad networks like the following:
AdSense: Entry-level ad network that accepts low trafficked sites- we have had ad rates from $1-$3 RPM on average.
Monumetric: Mid-tier ad network (> 10k monthly page views required) with slightly better rates- we've had $6-$12 RPM on average.
Mediavine: High-end ad network (> 50k monthly sessions required) with some of the best rates out there- we've had rates from $25-$50 RPM on average.
For a full breakdown of ad network entry requirements, click here!
How to Build a Better Blog
Looking for advice on how to improve your blog? We've got a number of articles around site optimization, SEO, and more that you may find valuable. Check out some of the following!