Last Updated on July 21, 2022 by Jeremy
Disclaimer: This Week in Blogging uses demographic data, email opt-ins, and affiliate links to operate this site. Please review our Terms and Conditions and Privacy Policy.
For bloggers, email newsletters are one of those things you either love or hate- there is often little room in between.
If you are on the love it side, odds are good it is because you have a huge list as well as products or services for sale such that you are able to make a profit with each and every email. If you hate it (a category that I fell into for the longest time), we'd guess it is because you think newsletters are expensive to operate, are hard to generate direct ROI relative to their cost, and you are only doing it because you've been told it is one of the only marketing avenues you can truly "own" on your site (no battling crazy social media algorithms here!).
I had originally stumbled upon Mailerlite when I was firmly in that latter category and made the switch because it was a cheaper alternative to Mailchimp (and a virtual carbon copy) that I could use to send out my latest and greatest articles with ease.
Purely from a cost-savings standpoint, I was happy with Mailerlite on its own for quite some time. I was only just starting breakeven from my list (sometimes even netting a small profit), but I was simply happy to no longer be hemorrhaging money outright. It wasn't until I really started to dive into the powerful program that it became worth its price even more and it truly made me a fan of email marketing outright.
So in this Mailerlite review, I thought I'd break down the functionality as well as the financial elements as to why this newsletter should be on your radar.
Mailerlite Pricing Should Be Enough to Sell This Service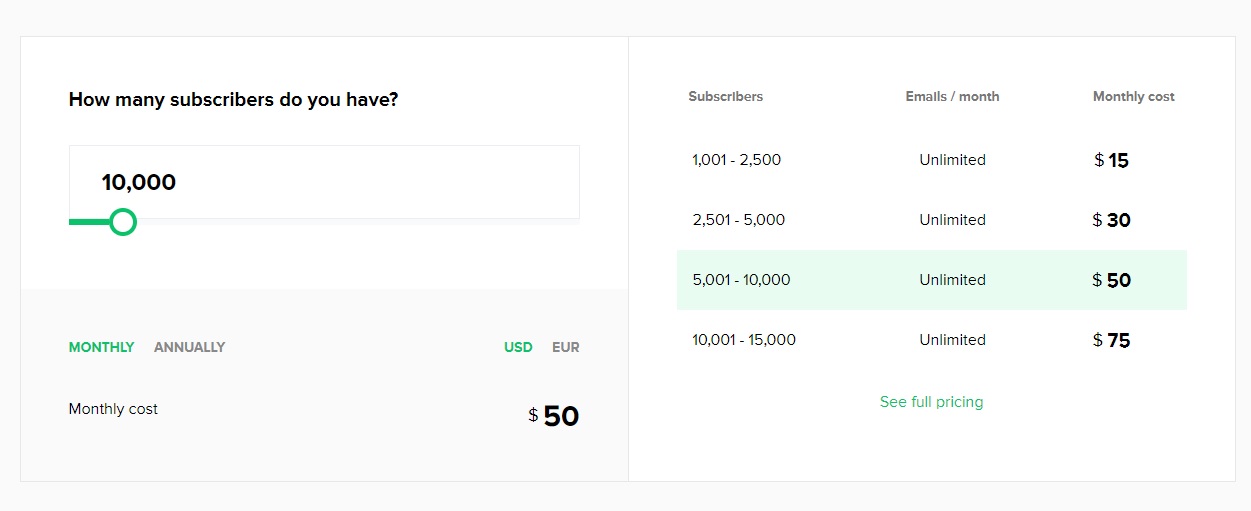 As we are often fairly cheap thrifty when it comes to paying for blogging programs, we need a solid justification in order to pay for something. Our newsletter service was no different.
I first came aware of just how much money I was wasting on my newsletter as I was approaching hitting 10,000 subscribers on my local blog. On Mailchimp, this would've taken my monthly fee from roughly $80/month to over $100/month. As I pay $100/month for my premium server with BigScoots (for up to ten sites, no less), paying that much for a less-than-optimized newsletter seemed, in a word, insane.
As I quickly did the math, I realized that my poorly optimized newsletter was costing me $0.10 to $0.30 per click for every user it sent to my site- about 2 to 10x more than I was making via advertising and affiliate sales. While I quickly scrubbed my list to remove inactive subscribers, I still found myself firmly in the $80/month tier at 5,000+ subscribers and was curious if there was a better way.
Enter Mailerlite.
At the time, Mailerlite's 5,000 to 10,000 subscriber tier cost just $35/month and was more than a 55% savings over Mailchimp. Since then rates have risen to $50/month for that same tier (still a solid 37.5% savings), but we've apparently been grandfathered into the old rate all the same. Thanks to the cost savings and a slight optimization of my email design, I found myself paying closer to $0.05 per click and, in good Mediavine months (read: $50+ RPMs typically in Q3 and Q4) started to break even and even amount to a slight profit outright!
As other newsletter services run the spectrum from $50 to $100/month for this same subscriber tier, finding a reputable service that was on the lowest end of that made enough for me to be happy. Anything closer to breakeven (and possibly even profit) is a win worth celebrating in blogging.

Now, you may be wondering, is Mailerlite easy to use? And to be quite honest, the answer is yes.
You can use premade themes or a drag-and-drop block builder and the service ends up being quite intuitive. If you have any experience with other services, odds are good you'll be able to jump into this one with relative ease- so much so that in this review we are almost glossing over it in favor of a more robust conversation about the price point. That is truly the best part!
That being said, I have to say that I kept my glorified newsletter-as-RSS-feed running for almost four years until I finally was pushed by some friends in the industry to really lean into my newsletter. It was only then that I started to appreciate just how powerful Mailerlite is, and I realized I was wasting my potential the entire time. As such, for the rest of this review, I want to talk about some of the more advanced tools available from Mailerlite.
Mailerlites Automation Figures Could Be Quite Valuable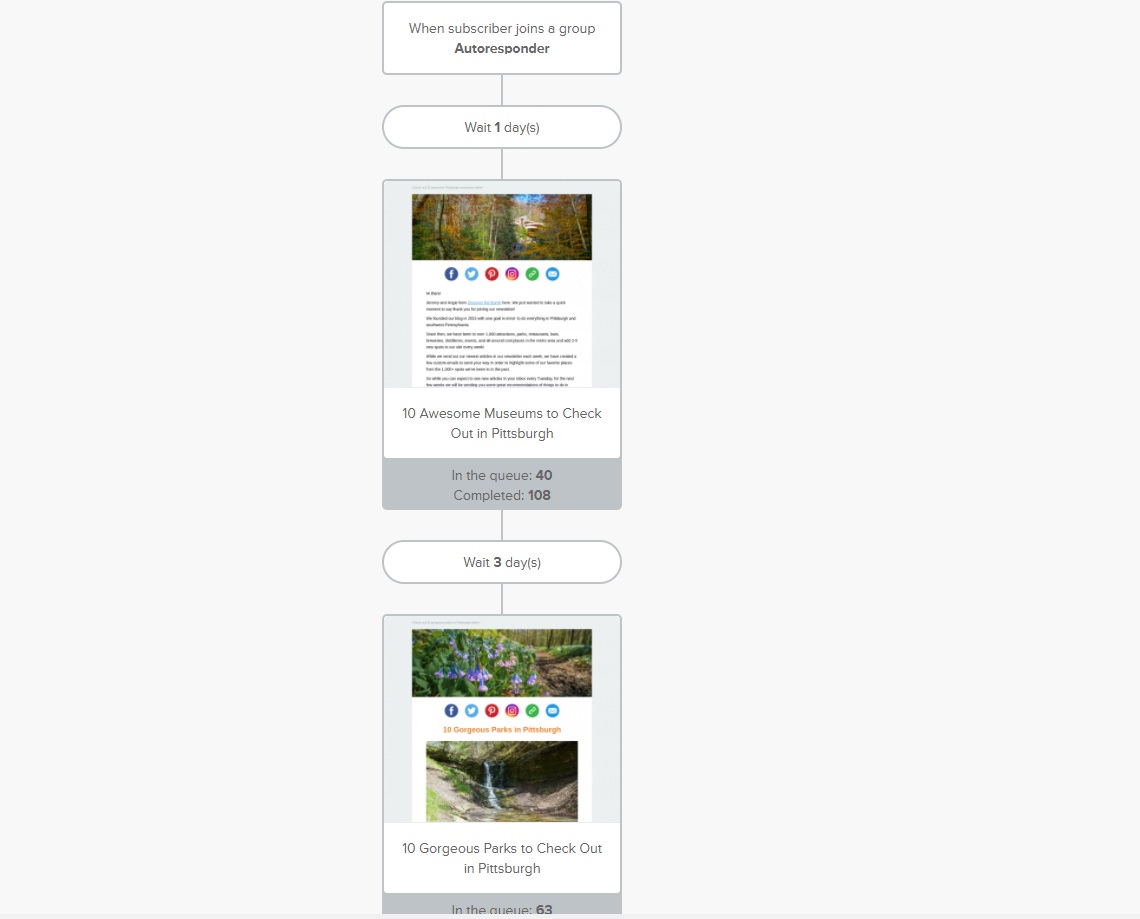 One of the things that frustrate me about other email services is that they can nickel and dime you for customized features. Want an automation sequence? You may find that only becomes available at a higher tier. Want advanced segmentation, A/B Testing, sending by time zone, or even more service? The same thing could possibly happen for each of those.
While Mailerlite does lock many of their best features behind a paywall too, virtually all of their features unlock once you become a subscriber. But as there is only one product tier available, practically everything you may need comes with it (the only exceptions are upgraded support, dedicated IPs, and more landing page features). To put it bluntly, once you start paying, you shouldn't expect any surprise upgrade requests other than pricing changes as your list grows.
For bloggers, we specifically are thinking about their segmentation, automation, and A/B testing features here as access to these tools really opens up a wealth of opportunities for bloggers who want to supercharge their mailing list.
We wrote an entire article about the perks of segmentation and automation in email lists, but to be brief here, it is all about hitting your users with the right content at the right time. On my travel blog, for example, I can use advanced segmentation to log where users signed up for my list, and if it was from, say, a specific country, use the autoresponders tool to send them out customized content specific to that destination outright (I don't, for reasons we'll get into below, but I could if I wanted to). Or, if you sell many products, you can segment users based on interests that way and hit them with customized promotions to help increase your sales.
The sky truly is the limit here and can be great ways to sell products, get more clicks, or even just build rapport with your readers as you send them content they really, really want to see.
Now, I do have to take a moment and address something that you're likely thinking- launching automation sequences is time-consuming. While Mailerlite makes it surprisingly easy to set up the logic for autoresponder campaigns, you still have to put effort into creating the content that goes into them outright.
This was the bottleneck that had me hesitate for nearly four years because I simply did not know if my time would be best suited for this task.
Setting up one or two global welcome emails is easy and can be done in an hour or so depending on how in-depth you want to make the email(s). No matter where you are as a blogger, we generally consider this a good practice with newsletters as it may net you an extra click or two and help build rapport with your new subscribers. From there, a modest autoresponder series of ten emails could take a week or more to develop (it did for me, at least). Diving into multiple autoresponders that are segmented based on user data (via where they signed up or simple interest selections) can require months of thought to build out properly.
To put it simply, how much you want to pursue becomes a value proposition for what you can get in return.
Before I started to break even with my newsletter costs, the thought of putting a week of time into an autoresponder series didn't make sense to me. Why create custom content to send out (still at a possible loss relative to newsletter costs) when I can publish similar content on my site and possibly profit from it almost immediately? Since I didn't have a product or a crazy high subscriber rate, putting any more effort than a one-off welcome email seemed like a complete waste of my already limited time.
But as ad rates continued to climb and my newsletter subscription rate started to grow, I knew it was time to put in the effort for an automation sequence. If I was already breaking even with my newsletter with my weekly sends, more clicks end up being straight-up profit!
The problem here is that, once again, you would have to do the math for yourself to determine if going down this rabbit hole is justifiable for your time. As we elaborate more in our post about automation sequences (linked again in case you missed it the first time), at 25 email subscribers per day, 10 emails sent in a sequence, a nominal 5% CTR per email, and $50 RPM on our sites, we may make just about $225/year from an email series. Good when it is all straight-up profit now that my newsletter more or less pays for itself, better our CTR or RPM improves, but not so good dumping a crazy amount of time into, either.
If your situation varies in any of those categories, your motivation may change entirely.
While none of these are really the fault of Mailerlite, we are simply highlighting them for complete transparency within this discussion. These automation tools are pretty amazing but you still need to have a reason to justify sinking time into them all the same. For bloggers who lean into display ads and affiliate sales as your major monetization outlets, you may need a spark to really make the leap into the full functionality that this service has to offer (as I did per the above).
All that being said, even if you don't embrace all of the great tools Mailerlite has to offer, we can all still rest pretty easy knowing we're getting a stellar service for a fraction of the price of their competitors. Getting all those extra tools included with the price is just an added bonus!
For some blog purchases, a cheap price for a functional product is really all that matters.
A Few Final Practical Notes for our Mailerlite Review
To end this one, there are a few quirks to Mailerlite that we have to highlight because ignoring them would be a disservice to you.
First, Mailerlite has a robust spam protection program and can be extreme to the point of being annoying. When you start an account, take some time to go through the domain and email authentication process. This will help ensure your emails go out in a timely manner and are not picked up by spam filters. This happened to me, I had no clue why my emails were going to spam, and it wasn't until I fixed this that the problem corrected itself. So make sure everything you can authenticate is good to go!
Second, as a tangent to that spam level, Mailerlite may have you verify information as you approach new subscriber tiers in addition to your price going up. This includes verifications upon your first email send as you import your list. As such, there could be a delay of a business day or two whenever you approach a new tier as well as in the initial setup. So do not have a critical, must-send email set to go out in either of these cases- you may find you have a slight delay. A few bloggers we know find this frustrating, but as long as you're not growing into a new tier monthly, it becomes quite infrequent after the initial setup.
Third, Mailerlite is based in Lithuania and, as such, you may find support delayed slightly at times depending on what time zone you work in. That being said, as the years go by and the company grows, it seems like more and more employees of the company are global- so any concerns we've had here are becoming less and less noticeable.
Finally, and perhaps a bit more randomly compared to the prior notes, we've also found out that for the time zone scheduled sending feature to work, the email must be scheduled a full 24 hours in advance of the first time zone send. We had tried to use this feature here on This Week in Blogging to ensure that emails hit everyone's inbox at the exact same local time each everywhere in the world, but because our emails are time-sensitive and crafted at the last minute to get all the latest and greatest news included, we simply couldn't use that feature at all. Unfortunate, but it happens.
Apart from those points, we really have had no real complaints with Mailerlite. This tool truly is powerful and being one of the cheapest newsletter options out there really is a gamechanger for those who are concerned about the rising costs in managing their lists!
Looking to change your newsletter host? Check out Mailerlite here!
Join This Week in Blogging Today
Join This Week in Blogging to receive our newsletter with blogging news, expert tips and advice, product reviews, giveaways, and more. New editions each Tuesday!
Can't wait til Tuesday? Check out our Latest Edition here!
Upgrade Your Blog to Improve Performance
Check out more of our favorite blogging products and services we use to run our sites at the previous link!
Looking to Monetize Your Site?
Check out programmatic ad networks like the following:
AdSense: Entry-level ad network that accepts low trafficked sites- we have had ad rates from $1-$3 RPM on average.
Monumetric: Mid-tier ad network (> 10k monthly page views required) with slightly better rates- we've had $6-$12 RPM on average.
Mediavine: High-end ad network (> 50k monthly sessions required) with some of the best rates out there- we've had rates from $25-$50 RPM on average.
For a full breakdown of ad network entry requirements, click here!
How to Build a Better Blog
Looking for advice on how to improve your blog? We've got a number of articles around site optimization, SEO, and more that you may find valuable. Check out some of the following!