I've tried a number of advertising options on my travel blogs over the years, be it through Google Adsense, ad waterfalls with multiple networks (back when Amazon ads were a thing, at least), and private ad networks like Mediavine, all with one goal in mind- optimizing my CPM advertising revenue.
When I first started on Adsense, I was lucky to get $3 CPM (on a session basis). Now on Mediavine, I get between $30-$50 CPM depending on the time of year. With my two travel blogs often receiving 150,000 to 250,000 sessions per month combined, this increase in advertising revenue was a make or break difference for me in being able to turn my blogging career into a full-time job.
But I have to admit I was hesitant on joining Mediavine at first due to their exclusivity clause and traffic requirements (now 50,000 sessions per month), but after a few rave reviews from colleagues I jumped in and never looked back.
We should never have hesitated on this one. So let's dive down into a Mediavine review for more!
Our Advertising Revenue Tripled Almost Immediately with Mediavine

As with any ad network, the most important question to any blogger is, naturally, how much money can you expect to earn.
If it wasn't for the money, none of us would run ads, so we're not going to tip-toe around the topic as if it was a taboo in the industry. As jumping over to Mediavine was our biggest concern with regards to money, we have to say, we were pleasantly surprised.
Our very first day with Mediavine our CPM site-wide was $3.25 and $3.50 on our two sites respectively. I'm going to let it sink in for a second that out of the gate, horribly un-optimized, and without any extra work on our part we were earning a little bit more than we were with our previous setup (for reference- keep in mind this was also 2017).
Over the course of the next week we optimized our site a bit to meet Mediavine's ad targets, including cleaning up our sidebar, ensuring the in-body ads appear on every single post, and lengthening some short but popular posts to ensure more ads get displayed. (Think of it the same way you would if you are trying to optimize keywords for SEO).
Between that and the network optimizing for bidders, we were able to increase our CPM earnings to over $10 on our two sites. In real terms, on about 6,000 daily page views we went from earning $19.50 to earning roughly $60.00!

Since then, Mediavine made even more changes to allow us to further optimize our ad placements including adding video ads, more ad units, better targeting, and of course commanding higher RPMs overall as more and more buyers move into the digital market. All of these have come together to allow us to increase our earnings to $20-$30 average RPM over the year, up to $40 RPM in Q4 on our local blog, and over $60 on Black Friday (the highest ad revenue day of the year) all while still providing a friendly user experience.
As earnings are variable on a month-to-month basis, we thought it would be best to share our RPM table for 2019: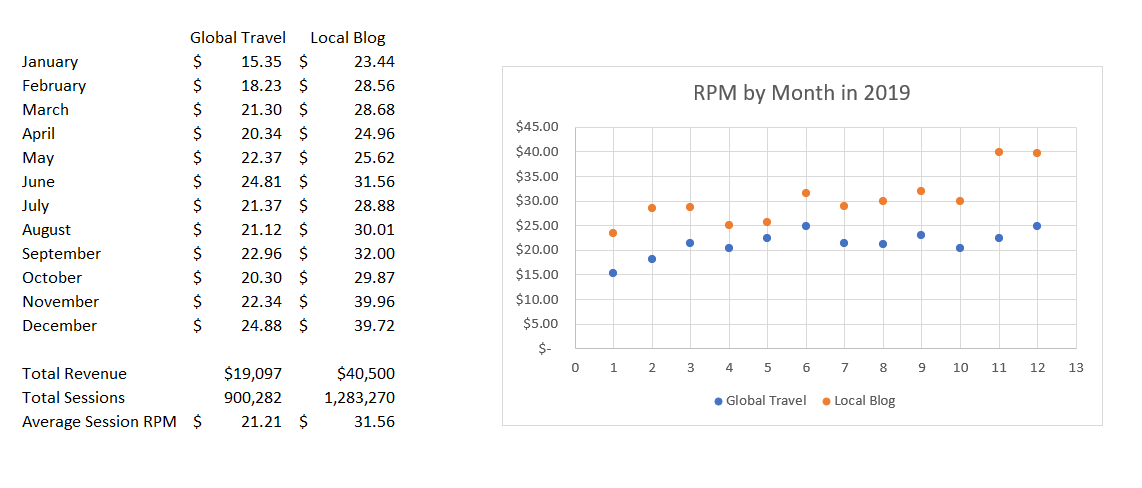 *Note that in 2019 we were at 3% revenue share bonus structure. Each year you are on Mediavine you get an additional percent in revenue share (1% in year one, 2% in year two, up to 5% on and after your fifth year). Additional increases in revenue share come with high volume sites; however, this begins at 5,000,000 monthly ad impressions and we are not close at this time.
Our Load Time Improved with More Pages Per Visit
It is pretty safe for me to write up a review of Mediavine, note the increase in revenue we received, and get you excited. If you're not excited about increasing your ad revenue by up to a factor of ten, you wouldn't have read this far. But there are even more benefits to Mediavine that we found, and the most important one comes with our load time.
You see, setting up an ad waterfall like the one for Amazon and Adsense really hinders your website as the code has to send out to see if Amazon has an ad, and if not then it has to send out to see if Adsense has an ad, and if not then it calls up a fallback. This takes time, and to make matters worse the codes really don't work that well together such that it puts more load on your site while that is all going on. (Namely, it holds up loading the rest of the page due to what we believe is poor async coding- but we could be wrong.)
Mediavine, on the other hand, gives you the option to enable lazy loading.
Lazy loading takes async loading (where the code isn't called until the website is loaded) and goes one step forward and doesn't even load until the reader is at the part of the page where the code will appear.
So when a reader is at the top, the top ad will load. When they are in the middle, the middle ad will load. And so on.
This is great for those who value load times because only ads that are called up are loaded, and if your site is anything like ours, your speed will go up drastically. In fact, immediately after making the change our pages per visit went up a fair bit too, and I can only imagine it is because of readers not being turned off by our slower site performance. (Although super fast readers could potentially outrun the ads, but that does not seem to be the case for the vast majority of readers. This setting can also be turned off.)
More money is great. More pageviews and a happier audience is even better. Getting rewarded for having longer skyscraper posts is the best as some of our most popular articles are 20,000+ words and have over 50 ads!
How to Improve Your Mediavine Earnings
When it comes to improving your Mediavine earnings, you may have a number of options at your disposal.
First off, ad revenue is, at its core, a math problem. Your income potential is as simple as multiplying your average ad rate by the number of ads displayed.
Your ad rate has a lot of factors at play, including the competition amongst buyers (often seasonal) and your audience demographics (site-specific). Private ad networks like Mediavine source through ad networks that heavily favor English-speaking audiences, especially those in the USA, so one way you can work to improve your revenue is to attempt to target traffic in these countries (especially when building audiences on social networks). I attribute this for one of the reasons why our travel blog's RPM is lower than our local blog which has 99% USA-based traffic.
The number of ads you display is also an important factor. You can influence this with your Mediavine settings to have higher density of ads on your pages (more ads = more revenue) or you can work on your most popular posts to make them longer and get a few more ad slots available at your preferred density settings too.
Personally, I went through my top articles and setup my ads to display at their ideal positions manually and ended up increasing my overall number of ads displayed significantly and my RPM jumped accordingly. Likewise, my travel blog articles are often much shorter than on my local blog which also is why my RPMs there are typically lower on average.
Finally, you can reach out Mediavine directly as they are always happy to help provide thoughts on how to optimize. Don't discount their experience!
Overall, I've been more than pleased having my blogs on Mediavine for nearly five years. From their above-and-beyond customer service to ad rates that are simply, well, spectacular and improving every year, I always look forward to seeing what comes up next with this network.
Check Mediavine out now!
Looking for more from Mediavine? We conducted an interview with Mediavine when the traffic requirements changed in 2020 and they provided a lot of insight into why they did that. Check it out!
Join This Week in Blogging Today
Join This Week in Blogging to receive our newsletter with blogging news, expert tips and advice, product reviews, giveaways, and more. New editions each Tuesday!
Can't wait til Tuesday? Check out our Latest Edition here!
Upgrade Your Blog to Improve Performance
Check out more of our favorite blogging products and services we use to run our sites at the previous link!
Looking to Monetize Your Site?
Check out programmatic ad networks like the following:
AdSense: Entry-level ad network that accepts low trafficked sites- we have had ad rates from $1-$3 RPM on average.
Monumetric: Mid-tier ad network (> 10k monthly page views required) with slightly better rates- we've had $6-$12 RPM on average.
Mediavine: High-end ad network (> 50k monthly sessions required) with some of the best rates out there- we've had rates from $25-$50 RPM on average.
For a full breakdown of ad network entry requirements, click here!
How to Build a Better Blog
Looking for advice on how to improve your blog? We've got a number of articles around site optimization, SEO, and more that you may find valuable. Check out some of the following!