Last Updated on April 17, 2023 by Jeremy
Disclaimer: This Week in Blogging uses demographic data, email opt-ins, and affiliate links to operate this site. Please review our Terms and Conditions and Privacy Policy.
One question I regularly received on my Pittsburgh blog from readers and potential advertisers alike was simply "do you have an events calendar?"
For the longest time, my answer to that was a resounding no simply because I thought the amount of time that it would take to manage an events calendar would not be worth any potential return on investment (especially because, let's be honest, getting advertising on a local site can be hard!).
It wasn't until I heard of a few creative ideas to monetize an event calendar that I was sold that it was something I wanted to pursue, and after a fair bit of research I settled on the Modern Events Calendar plugin. So in this one, I thought I would share a review of the tool, how I use it on my local site, and some unique monetization ideas as well.
Modern Events Calendar is a Beautiful Calendar Plugin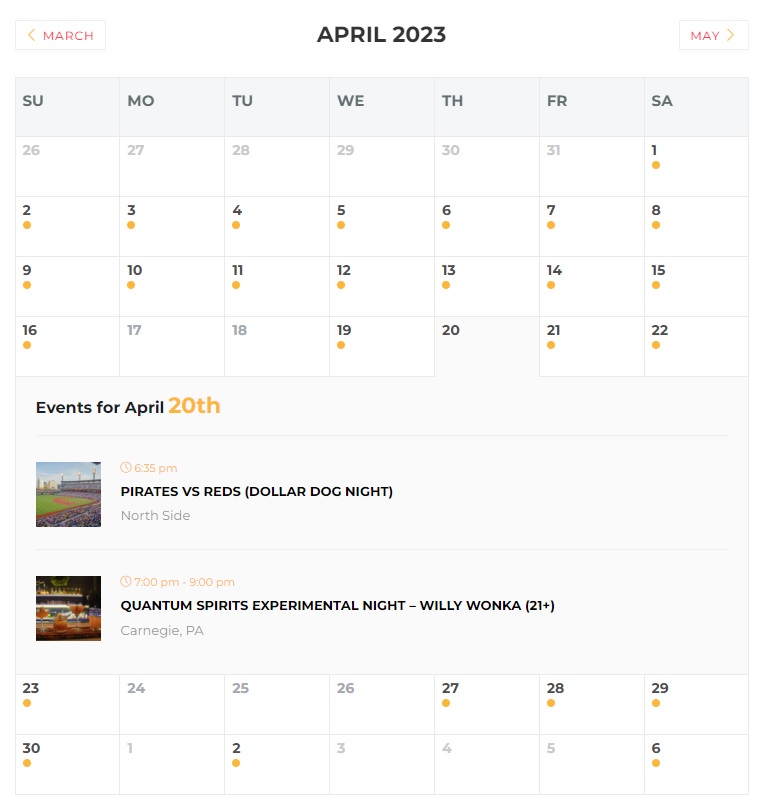 One of the reasons I had settled on the Modern Events Calendar is because it has many unique calendar views that all looked sleek and easy-to-use.
Want to display a calendar in month format where users click a day to expand? They have that. Want the events displayed on the side of a calendar instead? Yep. Looking to only showcase events happening today? There is a feature for that. Or if you want to showcase in a descending, list view format that has a next page toggle, you can do that, too.
What really sold this one for me was the fact that all of these different calendar views run off of one master event list created on the plugin's dashboard. So in what could otherwise be a ton of extra work recreating event after event for each unique view, all you have to do is create one event and they're propagated out into all calendar formats showcased on your site.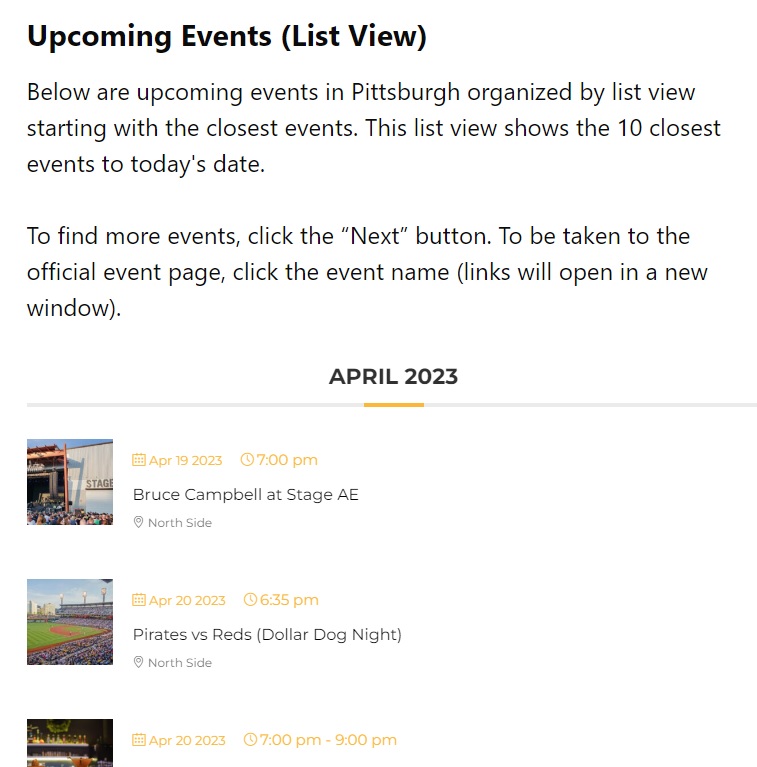 Want to create a new calendar view altogether? With just a few clicks on the dashboard you can create a new format and insert it onto your site via generated shortcodes.
As such, this made things easy for really customizable views on my site like a list view calendar in our sidebar (desktop view), a full calendar in the footer (all views), and several formats on our event calendar landing page for those who want to explore with their preferred format!
Although this review only features screenshots of my calendar formats, if you want to check out the live event calendar on our local blog to see this one in the wild, click the previous link.
The Calendar Has a Solid Learning Curve

While I was pretty amazed by the functionality of the Modern Events Calendar plugin, I would be remiss if I didn't mention that this one has a steep learning curve and some oddities that took some getting used to. While this one is a pretty calendar plugin all around, some issues are a bit hard to overlook.
Although this section is long, I would note that I still absolutely love this plugin all the same- you just need to get past the learning curve to make this one become seamless.
First, maintaining an event calendar is all about creating a standard logic for how your calendar will function. Will you have a landing page for each event or solely use it to redirect users to a 3rd party website? Are you going to display prices? What about hours? How will you deal with recurring events? I could go on.
The calendars here almost have too much functionality- so much so that I found myself going through and doing rework, tweaking, and changing things as I learned where settings were nested within the dashboard. The clearer your vision is for your calendar at the start, the easier this step becomes.
Second, event landing pages appeared in search results and archives pages on my site after creation- something I did not really want. So instead of reading the article that I would hope a user to find, they were likely to find an event listing that could quite possibly be outdated.
From what I could tell, Modern Events Calendar had no way of turning this one off, so I added the Search Exclude plugin that lets you turn off internal search results on any given post. This can be edited when working on an event from scratch or via the Quick Edit screen when looking at your event list (whether an event is Visible or Hidden can be added to the column view on the backend as well). This was, of course, more rework, but a quick one all the same.
Thankfully, the calendar does let you set all events to Noindex within the settings, so when coupling these two features together, we made sure that events could only ever be accessed from our calendar and, by extension, only the pages where the calendar was featured. It just took a few hours to figure out!
Third, although the plugin itself is quite fast, I found that it did add a bit of load to my site and slowed down key PSI metrics. Whether or not I'll still be passing remains to be seen as the plugin is still somewhat new on my site, but from my current evaluation, it is close. So those who are not on a premium server may find this plugin to be a bit too bloated for speed concerns.
I could go either way with this one, but for now, it seems okay for my site.
Fourth, I tried to insert the calendar plugin via Ad Inserter Pro to be able to display it via widget logic at the end of all of my articles articles while also lazy loading the script. Whenever I tried to use this in an existing code box (with other code), I got a 502 error that crashed my site.
Ultimately, after discussing with our host and the plugin developers, we determined that there was a conflict but only in my specific use case. When the shortcode was added into a clean Ad Inserter box with no 3rd party code, it worked fine. It was only when there was another code present that was causing this site crashing error.
Weird, and something I still haven't quite figured out why that happens, but it did require extra work rearranging my code boxes all the same.
Note: Regular shortcode insertion worked fine in a single post and on the sidebar via widgets. It was only using widget logic via AdInserter, with a box containing other code, that the error occurred.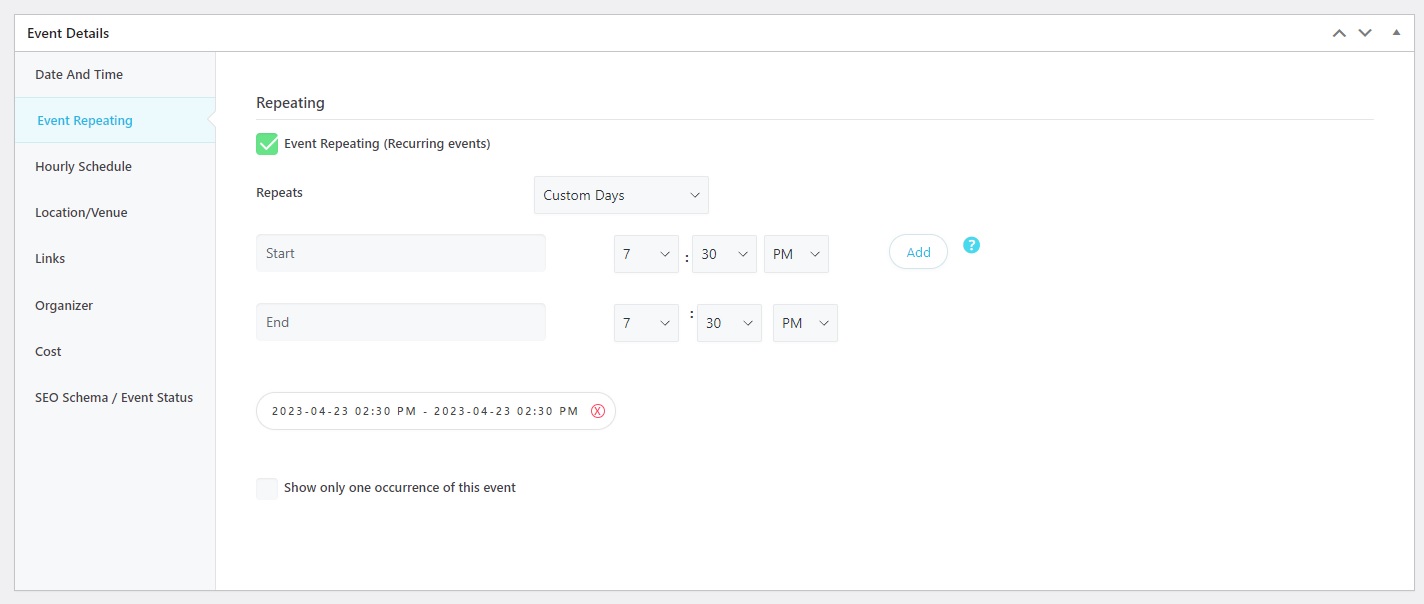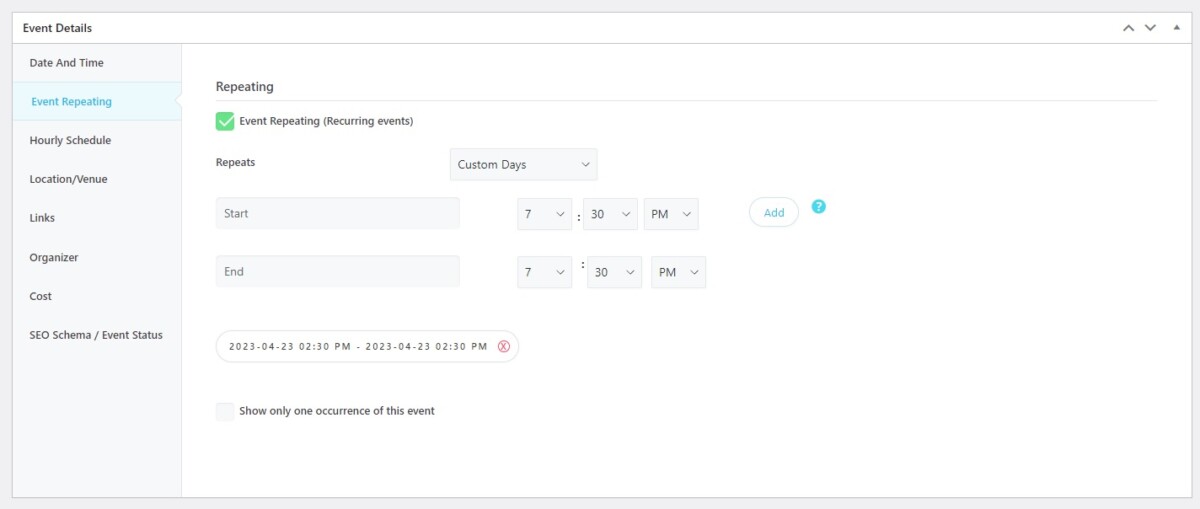 Fifth, using the recurring events feature to add one event over multiple days is rather confusing. Sometimes I'd put in a three-day event and it would show it ran until midnight each night. Another time a different setting would only show the first day. Think of an error, and I probably have seen it (adding to my frustration).
I found the easiest option when it was all said and done was simply to add additional days using the "Event Repeating" -> "Repeats: Custom Days" selection. Here, you can add on times for any additional day you want to be featured whether it is the next day, three days later, 10 days later, or so on. Each day you add can have its own customized hours such that they will display on the calendar with the correct hours every single day.
So if you have a weekend event with different times on Friday, Saturday, and Sunday, this setting made it a breeze to showcase all of the unique times on any given day.
Just don't forget to click the add button after selecting your start and end times for each successive day- this feature does not save automatically when you click publish!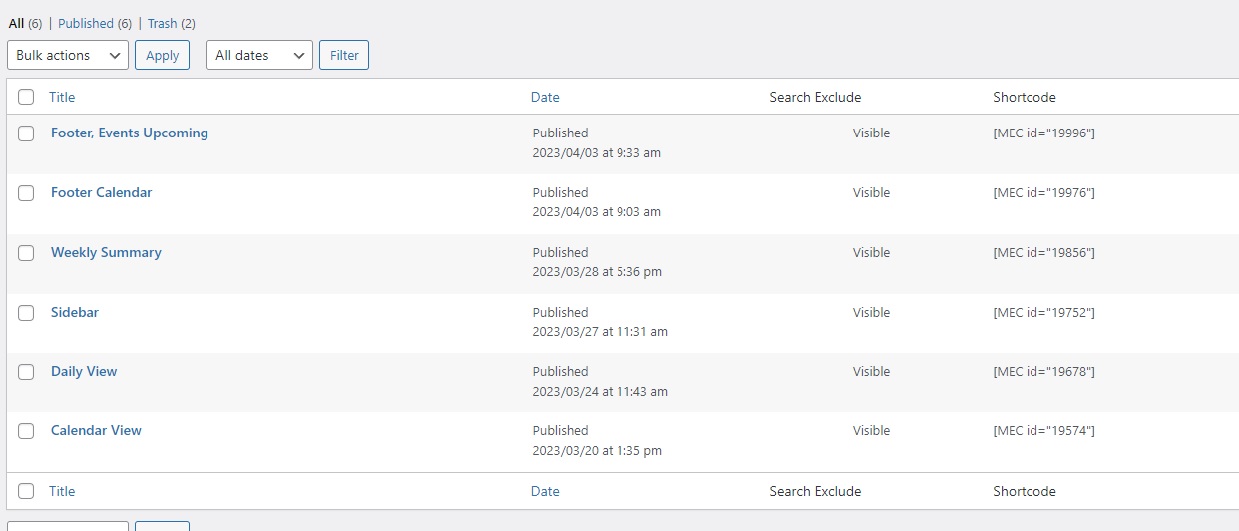 Finally, style adjustments on the Modern Events Calendar are quite limited. You can easily change things like colors, but when it comes to calendar height, width, spacing, etc., most of these tools simply do not exist on the dashbaord. As such, I did a lot of coding the backend via CSS. If you are not comfortable with this level of coding, it is worth noting that some customizations may not be achievable.
Overall, I'll end this section by saying that the team at Modern Events Calendar offered some fairly incredible support, especially with my Ad Inserter issue as noted above. But that doesn't mean the plugin is without faults I would like to see improved upon. That said, when you look through the support forum, it also seems like many requests have been made that are not included in updates, so we will see about that moving forward.
Ultimately, just go into this one knowing you will have a fair bit of upfront styling and the learning curve for figuring out what calendar types you like the best, and you'll be good to go. All told, it took me about two weeks of work (1-3 hours a day) to be ready for launch, inclusive of the time needed to add ~75 events as well.
How to Monetize Modern Events Calendar on Your Blog
So, now the big question- how do you monetize a calendar? I'm looking at the event calendar from three angles specifically. (Note: My calendar is new and I may revise these in the future- this is just a starting point for testing purposes.)
First, event listings are not free for all. I decided early on that my event calendar would not be free for events unless we had personally attended them in the past and/or would be attending in the future. Fourth of July fireworks? Yes. Our annual Christmas celebration known as Light Up Night? Absolutely. Beer festivals? You know it. We have done all of these, so they are being featured in our calendar.
In the nearly eight years of running my destination site, we have enjoyed hundreds of events that repeat anywhere from weekly to yearly, giving a solid number of events that I wanted to include on my calendar at the start. For everything else, our listing fee comes into play.
Ultimately, we wanted to price being featured in our calendar both low enough to entice volume sales but high enough to not become overloaded on any given day. Ideally, I would love to have 10 events on my calendar on any given day, not 25. I would love 3 to 5 to be paid, not all 10. I could go on. Then balancing that with what is equitable and fair pricing becomes, well, a headache.
My general pricing structure, for now at least, is as follows (these are publicly visible on my site, so this is not proprietary information):
One (1) single-day event: $50
Three single-day events: $100 (or $33 per)
Ten single-day events: $250 (or $25 per)
Extra days for recurring events with the same copy: $10/day
If someone runs a three-day festival over the weekend and wants to host all three days with the same copy and outbound link? $70 sounds nice- we charge a $50 listing fee plus two extra days at $10/day. If a major event wants promotion for 10 days? That jumps to $140. If a PR firm wants to buy a 10-pack of events to promote their array of clients, each hosting unique events, $250 allows for 10 customized postings.
Although this pricing structure is liable to change, this price is is, to me at least, equitable, fair, and, most importantly, the cheapest thing I offer on my site. When the next closest advertisement package starts at $250 (most jump to $400+), this is an easier sell for those who don't have a budget for a full campaign.
Note: Modern Events Calendar does not have a way to charge people to be listed as far as I can tell. At first, we used the plugin's Front End Submission form to take events and redirect people to a payment page; however, this resulted in some PR firms trying to submit events without paying as they simply ignored our terms. After that, we took that form off our site and simply have a contact form for potential advertisers to get in touch.
Second, we are loading up the calendar with affiliate links. Another decision I made early on was that every single link on my calendar would point to an official source in some capacity- not my articles. This means sending readers away from our site.
Yes, we could link to the events we review for all free listings; however, we also do not update old posts to be 100% accurate for the upcoming event information (it is a review, not a news story after all). So sending links to official event pages in the calendar was important to me.
But affiliate links are an exception.
Some event producers may be able to create affiliate links and point to an official event page (Eventbrite, etc.), but others, like a concert or sporting event, really do not need to point to an official page for readers to understand the event. Taylor Swift playing locally or our local baseball team having a Fireworks night with a game starting at 7:30 pm is, in all honesty, enough. So in these cases, we link to ticket sellers with affiliate programs like Ticketmaster, Stubhub, and others. If a Taylor Swift resale market exists, I may as well profit from it somehow.
I am also toying with the idea of offering free event listings where our fee is waived if an organizer can issue use an affiliate link, but this is a slow process that may be hit or miss depending on any given event host's system proper.
In either case, going through and adding on events with affiliate links is another novel monetization tool for an event calendar.
Third, upselling other services. As mentioned above, I created my events calendar to offer a low-tier option for all the inquiries we receive where our normal price point is too low.
The calendar also works in the opposite sense that you can upsell additional promotions when quoting an event listing.
In the past, I had offered a social share package where I would post a 3rd party event link across our social media profiles for several hundred dollars. Now, that tier includes being featured in our event calendar in addition to the normal shares. It is, in a way, a natural upsell. Why pay $50 for one event listing and [X] potential views when you can pay a few hundred for an event listing, shares on social media, and increase that reach to [Y] potential views?
Features in our monthly event listing guides, newsletter sponsorships, and custom articles could also be on the ticket for those with a higher campaign budget and simply found our site wanting to submit an event listing.
Am I assuming this will happen regularly? No, not at all. But at the end of the day, the event calendar has now balanced out a ladder system within my rate card for low, mid-range, and high tiers and offers a starting conversation point for all budgets and interests. Even if all that does is push partners down into the calendar tier, I am okay with that- the volume is the goal.
Overall, I've been really enjoying the Modern Events Calendar plugin on my local blog as a means to provide valuable information to our readers as well as testing out some novel monetization options. Although this one had a steep learning curve, now that the calendar is working more or less how I envisioned, I am quite pleased and excited to see where things will head in the future!
To check out more from the Modern Events Calendar plugin, click here.
Join This Week in Blogging Today
Join This Week in Blogging to receive our newsletter with blogging news, expert tips and advice, product reviews, giveaways, and more. New editions each Tuesday!
Can't wait til Tuesday? Check out our Latest Edition here!
Upgrade Your Blog to Improve Performance
Check out more of our favorite blogging products and services we use to run our sites at the previous link!
Looking to Monetize Your Site?
Check out programmatic ad networks like the following:
AdSense: Entry-level ad network that accepts low trafficked sites- we have had ad rates from $1-$3 RPM on average.
Monumetric: Mid-tier ad network (> 10k monthly page views required) with slightly better rates- we've had $6-$12 RPM on average.
Mediavine: High-end ad network (> 50k monthly sessions required) with some of the best rates out there- we've had rates from $25-$50 RPM on average.
For a full breakdown of ad network entry requirements, click here!
How to Build a Better Blog
Looking for advice on how to improve your blog? We've got a number of articles around site optimization, SEO, and more that you may find valuable. Check out some of the following!