Last Updated on December 18, 2022 by Jeremy
Disclaimer: This Week in Blogging uses demographic data, email opt-ins, and affiliate links to operate this site. Please review our Terms and Conditions and Privacy Policy.
Update: RYDE was recently acquired and rebranded as VAAAM. Since then the service has switched to a model that requires a monthly fee for image tracking. While we would have liked to try this new service despite the high fee, the team at VAAAM has been unresponsive to our questions and therefore we have not been able to test the new set up. As such, please consider the below review out of date.
In the past, we have talked about protecting your image copyright with monitor tracking services like Copytrack. Unfortunately, as we have had some less than ideal experiences with that service we looked to others to help fill our needs.
RYDE (formerly KODAKOne) is one such entity that offers an image monitoring service using proprietary technology to catch when your photo copyrights are being violated on the internet. Then they reach out to infringers to invoice for damages and help you monetize your stolen work.
But perhaps the best part about this service is its ease of use- it is quite hands-off!
Disclaimer: We are affiliates of RYDE. By signing up for their service, we may receive a commission.
Monitoring Image Copyright Infringement with RYDE

At its core, RYDE is an image tracking service that monitors your images across the internet. How they do this is proprietary, of course, but the process is as simple as uploading your image library to their server and sitting back and waiting for the matches to come in. (We'll talk more about uploading images at the end of this article.)
Other tracking services we have used would then present you with all potential matches via their algorithm and then set you free to mark which ones are indeed violations and subsequently submit a claim for processing.
RYDE goes one step further than others here in curating the matches for you- both as an exact image match (lowering the percentage of false-positives significantly; although I've had a couple) and also only presenting claims that they feel they may be in a good position to win. So instead of being flooded with dozens or hundreds of false-positive matches every week, we are presented with a few (generally 2-24) claim-ready proposals every week. All we have to do is perform a quick review to ensure it is indeed a match, give a final yes or no to move forward, and decide on whether we want to extend an offer for future licensing to further monetize the image.
Apart from the initial upload of images, my time spent on RYDE was simply logging in once a week, selecting yes or no on my images, waiting for the claims to be processed, and answering periodic questions when infringers reply to RYDE employees- so just a few minutes each week at most.
As I said, it is a very hands-off process!
How Much Can You License Images For?
The amount of money you are able to invoice for with RYDE varies. When you onboard, the team will ask you if you have any invoices from where you sold your images in the past as a benchmark rate. If you do not have one, they will revert to base image licensing rates from third parties like Getty as a starting point (so if you've sold images for more, you should find that invoice straight away) and provide a pricing structure from there.
When claims are finished, RYDE takes a split of the profit and you get paid (payouts are once per quarter).
At the time of publishing, RYDE does not have a public profit split table available for publishing. The proposed rates can vary based on the number of photos you have, your invoice history, and more. In our experience, they may take a bit more than competitors, but for most of the process to be hands-off, we're happy with this!
Finally, it is worth noting that going after infringers is a time-intensive process, so the window from starting a claim to completion can be quite long- the shortest turnaround for a claim tends to be a few months if you settle and could be up to a year or more if they proceed to litigation. As such, we view RYDE as a long-term passive income venture that is worth setting up now, but with the note that you may not see the benefit of this one for a while.
Front-End Work to Upload Your Images Pays Off Here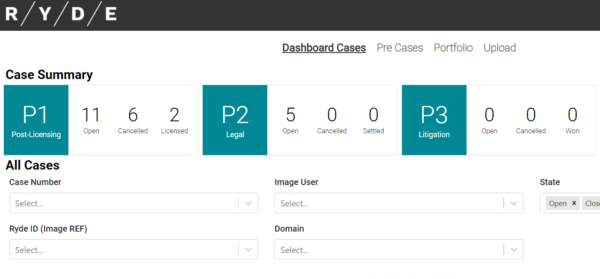 One of my main complaints with other image monitoring services is that they required too much of my time in order to make the return be profitable. RYDE is mostly full-service such that your only real work on the matter is uploading on the front-end, uploading new images as you take them, and checking off cases every week or so.
In fact, the initial process was fairly easy as well as the service has a web upload feature that you can drag and drop images into (max 1,000 files at a time and 10MB file size) or bulk transfer via FTP. With no limits on the number of images you can upload overall, I spent a bit of time over a few days organizing my portfolio and uploading about 55,000 images. From there, all I had to do was wait.
Unfortunately, my personal image library is not well organized (many duplicate sizes for high-res and web use) so I took a more involved process to only upload the images I have hosted online in the past- not my full portfolio of ~200,000 images. I uploaded images from the following sources:
Images uploaded to Facebook and Instagram (the service makes for easy exports in your account settings).

I made a note for the last time I uploaded images from social media so that way I could periodically download more images and only upload newer ones to the service.

Images uploaded to my website (my host, BigScoots, helped download my image library directory which I subsequently sorted*).
My old Flickr library which I had downloaded to my computer as a backup.
New images at the time of editing.
Some of these required some sorting to remove duplicates (like the WordPress download which had multiple file sizes included), but after about a day's worth of effort, I had my library sorted from nearly 200,000 images to 55,000 that I knew appeared online at some point in time.
Once uploaded, it was simply a matter of waiting for RYDE to do the rest of the work for me!
*When sorting through WordPress downloads, the file that is exported includes a number of sub-folder directories. To compile this, I searched for all images containing ".jpg" and then moved them into a common folder. From there, I expanded my view settings in the folder to sort by dimensions to delete any images that were not optimized for my display file size (either 600px or 2000px wide). Then, I manually looked through the images to delete stock photos, guest post images, and others that I do not have exclusive rights to minimize uploads of images I cannot monetize myself.
So Do We Recommend RYDE?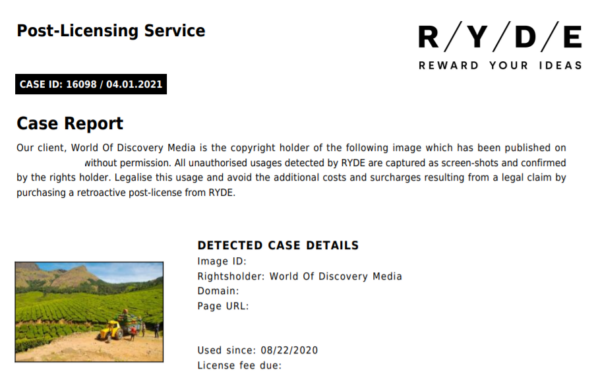 On the surface, I'm a big fan of RYDE as their service is simple and about as hands-off as I could ask for short of them automatically pulling images from WordPress and social media directly.
As I always like to be balanced in my reviews, there are a few negative components that you have to keep in mind with RYDE, but thankfully these are minimal.
First off, there is the commission split which we admit can be higher than other comparable services. (Again, this is likely variable based on your own circumstance.) But I also look at it that I was not making any money at all on other services, so giving a larger split is still more money in my pocket at the end of the day.
Second, their dashboard as of the time of publishing this review is, for lack of a better word, basic. I joined this service when it was fairly young, so I understand that things are going to be developed over time- but even there it is pretty sparse. If you need to make any modifications to your library (such as deleting photos uploaded by mistake) you need to contact them via chat support and some filtering abilities that we'd like are somewhat spares. This is manageable, but I have found myself wishing more functionality existed to let me control this myself as opposed to having to go to the chat.
Finally, RYDE is focusing on building relationships with their members and schedule video calls multiple times during initial setup to get to know you, your work, income goals, etc. I actually quite liked this part and don't consider it a negative, but I also recognize that it may not be for everyone as it takes some time upfront.
So far, I've been pleased with everything I've experienced on RYDE (formerly KODAKOne). Since joining, I've had 24 cases submitted that I wanted to process claims on (I passed on several images used by local non-profits and bloggers), have two already settled with a licensing rate (awaiting payment), five moving to litigation, eleven still open, and six canceled (likely due to location, UGC style sites where people uploaded our own images as their own, etc- but I'm speculating).
When it comes down to it, RYDE makes monitoring images about as hands-off as possible beyond the initial setup. From there, it is quite easy to upload new images periodically and submit claims on a weekly basis. From there, RYDE handles almost all the rest. As far as image monitoring services are concerned, I'll most certainly take that!
Want to monitor your images online and monetize claims against copyright infringers? Check out RYDE today! Be sure to tell them This Week in Blogging sent you!
Join This Week in Blogging Today
Join This Week in Blogging to receive our newsletter with blogging news, expert tips and advice, product reviews, giveaways, and more. New editions each Tuesday!
Can't wait til Tuesday? Check out our Latest Edition here!
Upgrade Your Blog to Improve Performance
Check out more of our favorite blogging products and services we use to run our sites at the previous link!
Looking to Monetize Your Site?
Check out programmatic ad networks like the following:
AdSense: Entry-level ad network that accepts low trafficked sites- we have had ad rates from $1-$3 RPM on average.
Monumetric: Mid-tier ad network (> 10k monthly page views required) with slightly better rates- we've had $6-$12 RPM on average.
Mediavine: High-end ad network (> 50k monthly sessions required) with some of the best rates out there- we've had rates from $25-$50 RPM on average.
For a full breakdown of ad network entry requirements, click here!
How to Build a Better Blog
Looking for advice on how to improve your blog? We've got a number of articles around site optimization, SEO, and more that you may find valuable. Check out some of the following!